Harry Styles' New Album: A "Fine Line" Between Raw Talent and Perfect Melodies
Hang on for a minute...we're trying to find some more stories you might like.
Release Date: Dec. 13, 2019

Artist: Harry Styles

Our Rating: A+

On Dec. 13, 2019, Harry Styles released his second solo album titled "Fine Line". It consists of 12 beautifully written songs along with some catchy titles, such as "Watermelon Sugar" and "Sunflower, Vol.6". Prior to the release of the album, Styles had already released "Lights Up", "Watermelon Sugar" and "Adore You", so many had theories on the theme of the album, such as whether it would have the feel good vibe all-throughout the album. Turns out, the songs give the album an extremely diverse variety of moods.

"When I first heard he was releasing an album I was super excited and I think the songs on the album are all beautifully written," senior Jefrany D'Catry said.

Each song is written with a different intent, yet are all extremely emotionally driven. Each tune attracted a different audience. Excluding the main singles, these are some of the most talked about tracks.

Sunflower, Vol.6

As the ninth track off the album, "Sunflower, Vol.6" is one of his many unique songs. This track definitely has that feel good vibe that makes you sway. It has an easy listening beat to it as well as a subtle type of pop. Based on his lyrics, such as "Sunflower, my eyes want you more than a melody", it can be inferred that he is attempting to reach out to someone he possibly has feelings for. The track concludes with Styles singing unique notes, which makes the song much more attractive.

Canyon Moon

As the tenth track, "Canyon Moon" is quite different from the other songs. Compared to the previous song, "Canyon Moon" is more of a country piece with a hint of 60's rock. According to two contributors on Genius, this track is about Styles thinking back to a happy moment in his life and how he wants to return home because of it. "Canyon Moon" is very upbeat and is definitely a fan favorite off the album.

Falling

"Falling" is a complete shift from his previous upbeat songs. The piano ballad proves to be one of Styles' saddest tracks on the album. One can speculate that "Falling" is about a breakup he had gone through with someone. Although this has a very sad tone, his vocals, instrumentals and emotions poured into the song and proved it to be a piece of art.

"The song pours so much emotion and it makes me feel his words. I appreciate the effort that he put into making this song. As he chose to play the piano with this specific song, it brings out the sense of sentiment and the beauty of the instrument. It is one of the best songs on the album both musically and lyrically. It brought me to tears the first time I listened to it. I look forward to hearing a crowd of people belt the lyrics to the song along with Harry in the future," senior Denise Cuevas said.

Overall, Styles' new album is a true work of art and many fans can agree. Along with his album comes a tour titled "Love on Tour". Styles will be performing at the BB&T arena in Sunrise, Florida on August 6. Tickets are already on sale at ticketmaster.com and other ticket platforms. Having already sold millions of copies worldwide, "Fine Line" is definitely one of the albums of the year.

[powr-twitter-feed id=c9391998_1578273635462]
About the Contributor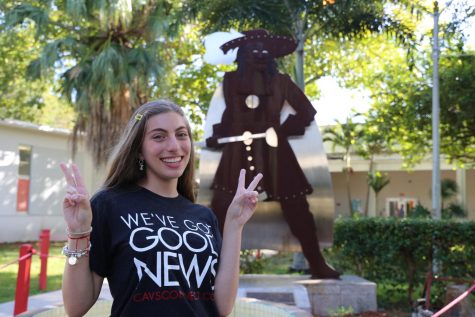 Emma Garcia, Staff Writer
Emma Garcia is a senior in the International Baccalaureate (IB) program at Coral Gables Senior High. As a staff writer, she hopes to write meaningful articles...