Burger King's Limited Edition Halloween Whopper
Due to increased popularity of the Japanese Black Whopper, "The Halloween Burger" has now been released to Burger Kings stationed across the U.S. for the month of October as a "spirited" promotional item. The only difference between the two burgers is that the American version infuses A1 steak sauce  into the bun, to give it it's black pigment instead of squid ink which is used in the Japanese version of the burger. The burger concept may seem intriguing but in actuality it is just another scheme to make a few extra bucks off some unsuspecting consumers.
"Personally I enjoy Burger King, but to a certain extent, when I heard they were bringing this to the world, I was kinda disturbed to see a steak sauce bun, too far BK too far," sophomore Andres Cuadriello said.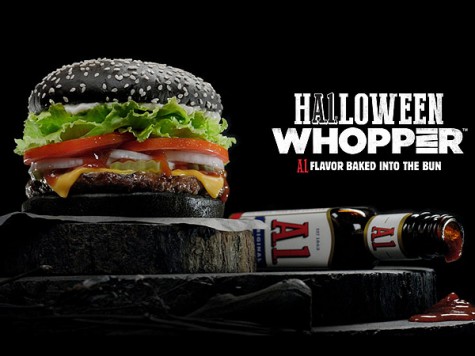 Similar to the Japanese version, the Halloween Whopper is not as good as the original Whopper, both price wise and health wise. The black burger is quite expensive for a fast food item, and will run approximately $5 as apposed to the original Whopper which only costs about $4. Don't let this one dollar price difference persuade you into giving it a try though! Consuming the black burger may cause side effects like turning your next visit to the bathroom a festive greenish-blue color, leaving customers feeling a little tricked by the Halloween inspired burger.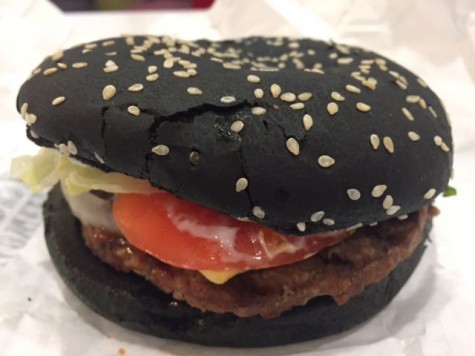 "I don't really mind the new burger, I mean a burger is a burger. Sure it is a bit odd to have the bun mixed with steak sauce but if it makes the company money, then keep doing what you're doing," freshman Patrick Rabi said.
If you're willing to step outside your comfort zone and try something a bit different, than go right ahead. There is a bright side to all the tricking this burger has been doing, and that's giving Burger King a boost of Halloween spirit.