The Miami-Dade College Kendall campus saw the unification of Coral Gables Senior High's publications during District Six's annual Media Day conference on Nov. 3. The Florida Scholastic Press Association, an organization that supports Florida's high school media and broadcasting programs, worked in conjunction with MDC to host Media Day, guiding students on their journalistic futures and improving their media quality. Cavaliers and fellow journalists heard from keynote speakers, attended specialized media sessions and received awards for previously submitted scholastic competitions.
"I always love having all of our CAF&DM journalists together to cheer for our school as we compete with other schools in our district. It's a nice bonding experience between the publications," Cavaleon Adviser Mrs. Zuniga said.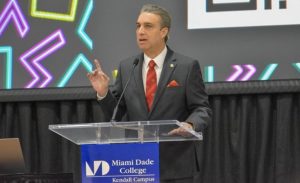 By 8:30 a.m., Cavaliers filled the MDC gymnasium where they began their Media Day schedule, sitting among masses of high and middle schools students. Veronica Hale, the FSPA District 6 Director, greeted, thanked and welcomed students. She introduced Dr. Antonio Cruz, the Kendall Campus President, and Mr. Craig Titus, Chair of the English and Communications department, who informed students on the events planned for them and provided information regarding the college's journalistic opportunities and scholarships.
The day consisted of three sessions of workshops, in which students could freely choose what lectures they were interested in and attend such, lunch interjecting after the second session. MDC Kendall's Building 6, a large section of the campus dedicated to classrooms, hosted the informational seminars. Workshops were comprised of lectures, informative classes and one-on-one interactive conversations between experienced professors and curious students.
"It was my first time at Media Day and I learned a lot about photography, especially aspects of unique photographic building. My favorite workshop was Photography 101 because the presenter answered questions with lots of detail and had an extremely informational presentation. I learned all about new ways to adjust lighting on my camera and make those settings automatic," freshman Vivian Pritchett said.
Session 2 commenced at 10 a.m., and students hastily walked to their desired workshop in hopes of getting a seat. While the first session contained 7 choices of workshops, causing minor overcrowding issues, the second and third had 9, helping to decrease the surplus of students in full classrooms and increase fluidity between sessions. Students had the opportunity to explore topics outside of their publication's regular efforts and hear from professionals in the field.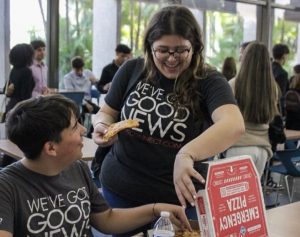 Following two sessions of learning, the immense group of Cavaliers reunited in the campus food court to discus their workshop experience, plan for their next session, and reenergize. While some students decided between the local Chick-fil-A and pizza, others enjoyed the cafeteria's food or home-made meals. After an hour of relaxation, students were ready to learn again. The final session began at 12:00 p.m. and served as the last workshop for students to sharpen their journalistic skills and familiarize themselves with foreign knowledge.
The conclusion of the third session at 12:50 a.m. saw tensions rise in the school's atmosphere as students anxiously returned to the gym, where awards would be announced. During the last weeks of September, publications submitted media entries to the FSPA Fall Digital Contest, where students were given prompts in regards to various forms of publicizing such as writing, filming or designing. Nov. 3 marked the day to announce the previous competition's All Florida Winners, awards of excellence and honorable mentions for the work submitted within their district .
At 1:00 p.m., CavsConnect, CavsTV, Cavaleon, Highlights and Catharsis, the largest publication body at the conference, quietly awaited for administration to begin listing competition winners. Six names affiliated with Gables were displayed simultaneously, all of which won All-Florida for the Deadline Poetry prompt. The excitement caused thunderous cheers of exhilaration to pulsate through the prideful Cavalier crowd. Minutes later, Gables won the Literary Magazine Spread and two Sports Written Commentary All-Florida awards, accumulated by Catharsis, CavsConnect and Highlights. Caitlin Savage, Catharsis Poetry Editor, won the Best of the Best award for her Written Deadline Poetry, ranking her as one of the most accomplished poetry writers in the state of Florida.
"Receiving the All-Florida award was extremely rewarding. I have been working diligently for the Catharsis publication for the past two school years and I am so grateful to have gained something in return for my work. Being presented with the Best of the Best award was even more surprising. I feel honored to represent the Catharsis publication in the Best of the Best award category," junior Caitlin Savage said.
To the surprise of many first-time media day attendees, the bus ride returning to school thrilled students as equally as the award ceremony. Advisers and editors-in-chiefs handed out additional awards to writers and photographers who placed. Applauses and cheers echoed through the bus as awards of excellence and honorable mentions were announced to a variety of fellow aspiring journalists. By the end of the day, Gables publications allocated 22 honorable mention awards, eight awards of excellence, 13 All-Floridas and one Best of the Best award.
As Cavaliers returned to their home campus at 2:00 p.m., they reflected upon the new material learned throughout the day. Using criticism provided by judges and additional information gained through college-standard workshops, students refined their media skills and found ways to apply them to their respective publication.
"I think Media Day was a really powerful event where student journalists are able to meet and discuss literary and video topics with each other. Personally it was a great learning experience and I am glad I have had the opportunity to go for the past two years as it improves my journalistic writing and interviewing," Highlights Editor-In-Chief Emily Kardijan said.
A Look Into Media Day Workshops
Let Me Talk to Ya
Learn to talk and interview people you have just met with less stress and anxiety. In turn, improving the quality of quotes and information that you receive from them.
How to Build Your Brand
Learn how to extend your program's coverage, develop a recognized brand and put out high-quality content across your social media platforms.
Photography Tips 101, for Newspaper and Yearbook
Basic and intermediate instruction for getting better candid and sports photos paired with a question and answer segment. Hands on training with students' cameras.
Interactive Q&A: The Reporter
A session detailing Miami-Dade College, Kendall Campus's student newspaper, the Reporter. Question and answer segment with the editor-in-chief and advisor about their experience with a college level newspaper.
Making It In Media: A 22-Year Old CEO
A 22-year old CEO explains his experience in the educational and professional fields. 4-time national Emmy award winner will go into detail about his company and the steps taken to create and improve it.
Finding the Unexpected Shot
UF UAA Photographer, Jordan Perez, takes students through his portfolio and explains techniques he used to help elevate his photographic eye. Through professional comparison, students will learn how to apply new knowledge to their photography.
Writing Like You Talk
Learn the key to drawing the viewer or reader in with your words as you create the perfect package script or print story. Use descriptive writing to immerse the reader in emotion.