First Day Back to School For Many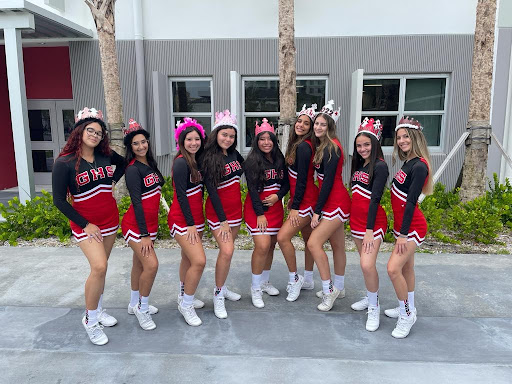 After more than a year of asynchronous learning, Miami-Dade County Public Schools have officially reopened for fully in-person classes. Housing over 3,000 students at Coral Gables Senior High, many Cavaliers had not been on campus for months due to COVID-19. Though there are new protocols for safety, one thing about the first day of school on Aug. 23 has remained the same: new faces could be seen throughout all the halls.
The 2021-2022 school year brings in a changed dynamic compared to the last 17 months of remote learning. One difference between online school and physical school is the learning experience. At home, students had to find motivation on their own to participate in class and pay attention. Now that everyone will be at school physically, students are able to talk to teachers in person and can forget the "mute" and "unmute" buttons in a Zoom meeting. Students also have more opportunities to collaborate with their peers in person.
Formerly online students also came back to a physically altered campus as the brand new 6000 building is finally complete and ready for classes after two years of construction. With these renovations, a new cafeteria and lunch seating is also available.
Gables will have new rules this year in addition to all students and faculty being required to wear masks. This decision, made by MDCPS Superintendent Alberto M. Carvalho, was not in accordance with Governor Ron DeSantis, who said that masks should not be made mandatory in school.
DeSantis issued an executive order that threatened to take funding away from certain positions in public schools in Florida if they required masks. This order has since been thrown out by Florida judge John Cooper, who ruled in favor of parents that claimed that Desantis was overstepping his boundaries.
"At first I didn't feel safe coming back, but now with the mask mandate it definitely gives me more of a peace of mind about the environment around campus," senior Arianna Boffill said.
Despite the mask mandate, students will still be quarantined if they come in contact with another student who tests positive for COVID-19. This policy has raised some concerns about how education will continue for students at home now that teachers are no longer holding interactive Zoom meetings. Teachers have decided to combat this problem by having all their assignments online through various platforms and recording lessons if needed.
"Being around all these people after all this time was a little weird at first, I had classes where no one spoke a word. I know it can definitely be overwhelming at first but I'm sure everyone will get comfortable with it in no time," senior Sabrina Dupeiron said.
One thing that many students are going to have back this year is a sense of normalcy and schedule. The classes of 2020 and 2021 missed out on a lot of activities essential to Gables seniors, but the 2021-2022 school year will bring about a return of these memorable events, and students will get to experience them with their entire class.