Second Anniversary of Parkland School Shooting Brings Reminders of Gun Violence
The second anniversary of the infamous Parkland school shooting is approaching, casting a shadow over the upcoming Valentine's Day. On Feb. 14 of 2018, gunshots were reported at the Marjory Stoneman Douglas High School when a former student initiated one of the deadliest mass shootings in the history of the United States.
What was supposed to be a day focused on love instead ended in tragedy, as seventeen innocent lives were lost. Citizens were astounded at the violence that occurred, and people were forced to take a look at the state of the nation at the time. Just two years later, it is important to reflect on such impactful events and honor those who were unfortunately victimized.
What seemed to be a day like any other in the busy lives of high schoolers quickly turned dark when nineteen-year-old Nikolas Cruz unloaded a semi-automatic rifle on a group of helpless teenagers. He was arrested by police and charged with 17 counts of premeditated murder, but no sentence he could receive would ever make up for the damage he caused. The trauma survivors endured, and the family members that would later get calls that their loved ones were gone had their hearts broken.
It was a day of sadness, and the situation hit especially close to home for Gables and Miami-Dade County Public Schools students who knew that the shooting occurred only an hour away. Once the initial shock passed, however, questions started to be raised about how such a scenario was even able to happen in the first place.
"I have a lot of friends that go to Douglas and I did not hear from them for hours because some were trapped in the school. It really impacted a lot of people I am close to, and I am so proud of how far they have come and how much they have taken a stand," senior Emily Kay said.
Those who were personally connected to the event were upset enough about the violence that occurred in what is supposed to be the safest place for a teen to be: their school. Many argued that the shooter was not the only one to blame in this scenario, but that lenient gun laws were partially at fault because they allowed him access to the weapons he used. Although the shooter was not even old enough to drink alcohol, he was able to pass the required background check and legally purchased the murder weapon with no questions asked. This caused a lot of controversies and led to activist movements sprouting up to advocate for stricter gun laws.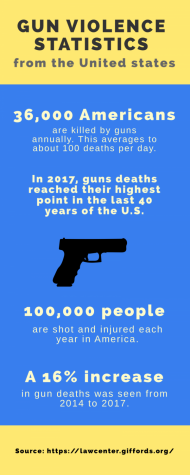 Parkland victims themselves started the March for Our Lives campaign. Emma Gonzalez and David Hogg were two students that survived the massacre and were able to use their story to be the main advocates for this movement.
Today, the March for Our Lives movement is still going strong. Their main goals are to block the National Rifle Association (NRA) and policies that would decrease gun ownership regulations by promoting voter registration, providing information and gun violence statistics, and speaking to politicians to have their voices heard.
There were many community members and political representatives that opposed any such reforms. Since the Second Amendment details the Right to Bear Arms, they argue that any limitations would be infringing on their rights as U.S. citizens. The opposition also claimed that the focus should be on the mental health of the murderer rather than the blame that could be placed on actual weapons themselves.
"All my friends were deeply impacted by what happened and it really changed their lives. Even though it did not happen at Gables, this tragedy really hits close to home. Since then, I have stayed updated with my friends about different ways to get involved to change gun laws," senior Amy Kaplan.
Regardless of whatever opinion one agrees with, it is clear to see that gun violence has become a prevalent issue in today's society. In 2016, Florida also had the mass shooting in the Pulse nightclub in Orlando where 49 people were killed. Thousands of people die each year due to gun violence, and these numbers have skyrocketed in recent years.
With Americans facing such an obvious threat, one may wonder, have any laws changed since the Parkland disaster? The answer is yes. Since then, Florida has passed the Public Safety Act, which raised the legal minimum age for purchasing a gun from 18 to 21 years old and banned mentally ill people from buying firearms. The NRA immediately filed a federal lawsuit against the state to reverse the action.
The federal government also banned bump stocks throughout the entire country, mandating that they are turned in or destroyed, and a total of eleven states also passed laws to restrict the access of firearms to those with a history of abuse. Although measures are slowly being taken, some say there are still several changes that need to be made.
This anniversary provides a melancholic reminder of our nation's troubled history throughout recent years. However, it is important to revisit these senseless acts of violence in order to try to find solutions and promote progress within our legislation.
For those who want to pay tribute to the seventeen beautiful souls that were taken two years ago, the city of Parkland is holding a service focused on healing at Pine Trails Park from one to eight p.m. Regardless of the lens one chooses to look through in reflecting on such a tragedy, it is important to note that this country can always benefit from changes as it learns and grows from its mistakes.
Leave a Comment
Your donation will support the student journalists of Coral Gables Senior High School. Your contribution will help us cover our annual website hosting costs.
About the Contributor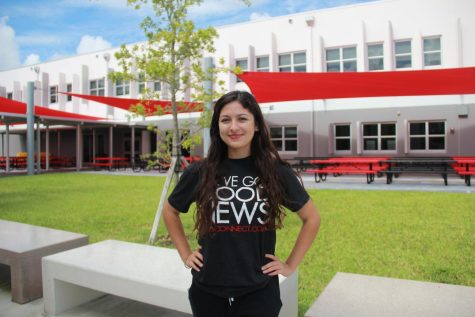 Sofia Cruz, Co-Editor-in-Chief
A rising senior in the International Baccalaureate program, Sofia Cruz is eager to start her fourth and final year as a member of CavsConnect. Returning...