Caf&DM Banquet: The End of a Successful Year
Hang on for a minute...we're trying to find some more stories you might like.
As the school year comes to an end, the time to congratulate the students' efforts and achievements has arrived, and there is no better way to do it than in a banquet organized just for them. On May 22, the Communication Arts, Film & Digital Media (CAF&DM) academy had their annual banquet at the Rusty Pelican in Key Biscayne, where members of the Gables' publications (Gables Live, CavsConnect, highlights, Catharsis and Cavaleon) had the opportunity to have fun and receive awards for their effort and talent shown throughout the year.
"
I remember my first banquet last year. I was so excited to be there. This year, not only being named editor-in-chief for next year made it a great experience, but also being able to see myself in the other students that were there for the first time: it was just gratifying."
— junior, Angie Lopez
The event, organized by Ms. Zaldivar, began with brunch that led into the award ceremony, which was hosted by Presley Gonzalez and Melanie Elguezabal from the Cavaleon.
Rookie of the year, most dedicated member, MVP and staff writer of the year were some of the categories awarded. With microphone in hand, Ms. Gonzalez got the award-giving started with the highlights awards. Among the talented recipients were Kevin Monjarrez and Mathilde Requier for staff writer and rookie of the year, respectively. As soon as she finished, Ms. Zaldivar took over. She called Ari Herrera, Hansen Perez and Adriana Torres to stand up and receive their awards for their work in the Catharsis literary magazine.
Afterwards, Ms. Camacho awarded Gables Live! members Ketty Dones, Felix Lopez and Betsy Martinez for their hard work. For CavsConnect awards, Ms. Suarez awarded Yeileny Lopez most dedicated, Daymara Fernandez rookie of the year and Alexander Yagoda staff writer of the year, among others. Ms. Zuniga presented the Cavaleon awards to Presley Gonzalez, Adriana Obeso and Melanie Elguezabal.
"I won the top CAF&DM girl award and I was so thrilled. I felt so warm having all of my academy and fellow publication students there with me. It was definitely an event for the books," senior Presley Gonzalez said.
The ceremony came to an end as this year's editors in chief of each publication presented the upcoming editors in chief with an award.  Following the ceremony, students and teachers alike celebrated the end of the year and all of their respective successes as they left it all on the dance floor.

About the Writer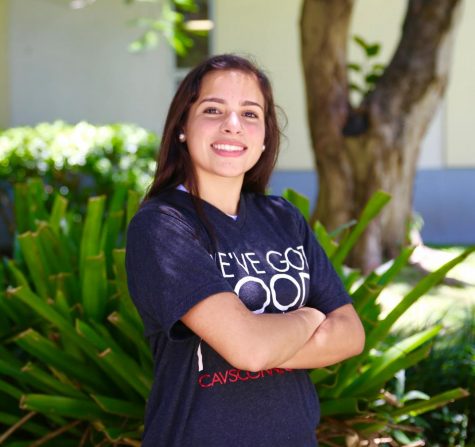 Jimena Romero, Staff Writer
Jimena Romero is a dedicated junior enrolled in the International Baccalaureate career-related program. She became a member of CavsConnect towards the...