Biking in the 305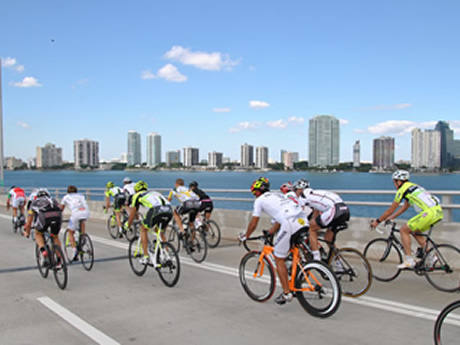 Miami is famous for many things except bike safety. In fact, the lack of bike lanes, safe crossing areas and an opposition to bikers on the road have made Miami one of the least bike-friendly major cities in the country. The state of Florida as a whole leads the country with statistics for biker deaths, injuries and crashes caused by motorized vehicles, according to the National Highway Traffic Safety Administration (NHTSA). Recently, the city of Miami recognized the need for a drastic remodeling of biking infrastructure. They have planned and released the "Miami Master Bicycle Plan" which uses the results from surveys to target areas that the biking community singles out as having insufficient facilities. When the 20-year plan was started in 2009, 84% of the surveys identified the lack of facilities such as bike lanes or bike racks as the primary barrier to cyclists (Miami Master Bicycle Plan 2009).
Bike305 is one of the city's leading partners in advocating for bike safety and expansion of existing facilities. Bike305 is a countywide initiative, led by Miami-Dade Parks and partnering municipalities & community-based groups Mack Cycle and the City of Coral Gables, to promote cycling as a healthy way to exercise, commute and enjoy, as a family activity, the miles of safe trails, paths and bike lanes connecting neighborhoods, parks, attractions and adjacent communities. Their mission is wide-ranging, intending to encompass all situations in which bike safety can be improved.
"South Florida is probably the best place in the country to cycle all year round.  Bike305 hopes to reach residents and visitors informing them of the safe places to ride a bike, events they can ride a bike to and groups they can ride with.  We want to see people choosing bikes, rather than cars, to get them to their destinations for health and environmental benefits," Bike305 Coordinator Sue Kawalerski said.
The Bike305 website has become a one-stop website for anyone looking to get more information on the biking scene. Provided are interactive maps to plan bike rides along safe routes, countless downloads and videos on bike safety, information on bike riding events all throughout the county and any major bike-related developments to affect South Florida Cyclists. Bike305's influence has grown with the recruitment of 17 municipalities and 22 local businesses as partners. Although Mack Cycle is the leading sponsor of the Bike305 initiative, they provide donations and sponsor countless other community events. The Mack Cycle mission statement is displayed on their website.
"Our goal is not simply to sell the products people need in order to compete in the sport, but to support the local cycling events. We are proud to be the Presenting Sponsor of the MS Ride, Key Biscayne Tri Miami and Trilogy Series, Miami Man, Tropical Cyclocross, Gone Riding Mountain Bike Series and many other local events," Mack Cycle President Mary Jane Mark said.
Bike 305 and Mack Cycle are involved at every level in the community. During the installation of the Gables bike rack next to the auditorium, Mack Cycle, Bike305 and the Florida Department of Transportation all agreed to help Gables start a pilot program for safe biking in high schools. The program, managed by the board members of Gables Earth, aims to first increase bike usage within our school, then to promote safe biking techniques at local elementary schools and the surrounding high school community. It is the start of a pilot program intended to make safe biking "cooler" among high school students.
"I'm excited for the potential of this biking project. While it is going to take longer than a year to make a big difference, this is  good start," Gables Earth Board Member Hanna Payne said.
Implementing programs to make biking more accessible to the public is beneficial both to the environment and to the city. Most major cities have well-developed public transportation and bike systems. Bike305, Mack Cycle and all of their partners are working hard to make Miami and Coral Gables safer and more livable for all their residents.