Resonating With the Hearts of Audiences, Lenny Blanco Sings His Way Through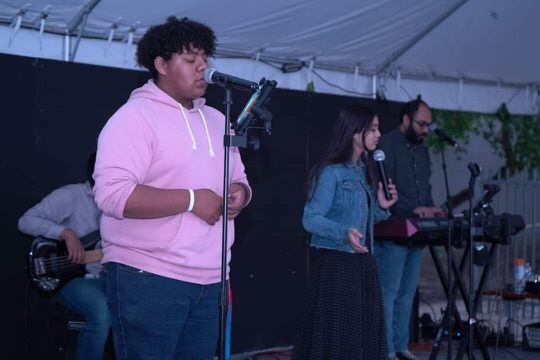 As students peek in to see the music classroom, an individual stands out with singing in serenades. Whether it is performing Valentine's love songs or singing with a fiery voice at his local church, senior Lenny Blanco's passion for singing can be both heard and seen.
Blanco started singing at 5-years-old as a fun activity he enjoyed throughout the day. However, by the time he turned 8-years-old, he decided to pursue his singing career at his local church, Iglesia De Dios Rio-Agua Viva, where he became a part of the vocalist worship team. Although there was not anyone in particular who inspired him, his parents, and later on his friends from Ponce de Leon Middle School, encouraged him to follow his singing talent without fear of imperfection in both English and Spanish. 
"Singing was the thing that called to me the most. It was something that I was able to control and there was nothing wrong when I sang. Singing was and is about having fun with its rhythms, harmonies, melodies and just dancing along with them," senior Lenny Blanco said.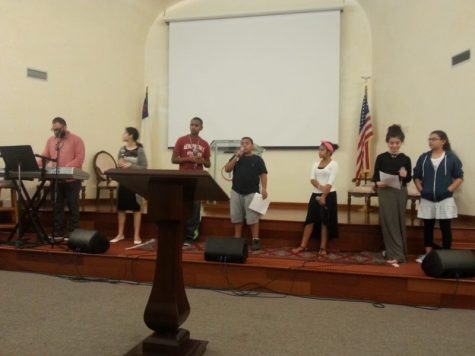 Having been positively impacted by his vocal skills, his academic performance has increased from practicing his verbal skills on a daily basis. Whether he sings out for people internally in his thoughts or humming his favorite songs, Blanco uses this to concentrated on his schoolwork while keeping his brain stimulated.
"Lenny is so creative and compassionate that it's inspiring to everyone around him. He's such a wonderful and dedicated person, and he contributes so much to the Gables community," senior Cheryl Fiffe said.
As Blanco continues to improve with endless hours of practice at his place of worship and with the Gables' chorus, Blanco hopes to one day write his own songs and perform them as a hobby. His long-term goal for songwriting is becoming a singer. Though lost in thought, Blanco hopes to write his own songs as a hobby because he does not see songwriting as a career, but rather as an interesting pastime to take on.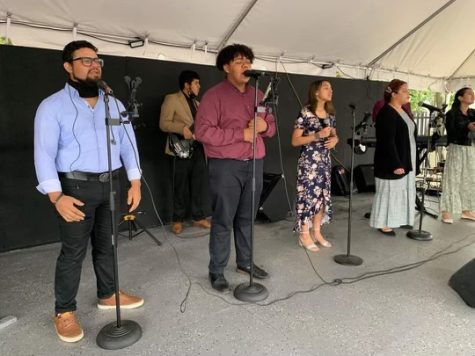 While Blanco does not plan on continuing music further, he wishes to inspire those around him to feel the same way music itself inspired him, even if it just ends up being nothing more than a hobby. Through testimony, Blanco has proven that determination through his outstanding performance and a passion for singing is all one needs to achieve greatness. When he first started singing as a young boy, he had no idea what he was doing; twelve years later, Blanco has gotten to the level of singing he has always aspired to be at.  
"What pushed me to sing was that I was able to feel the artist through their song. I would get goosebumps at the thought of a song that touched me deeply. Being part of the worship team made me yearn to praise more and more to my God and just the fun of all the infinite possibilities that you can make with a couple of notes changes which can change the entire mood of a song," senior Blanco said.  
Despite his successes in the realm of music, Blanco also fosters a love for biology, committing to Miami Dade College this upcoming fall term. While Blanco has the intention of pursuing a career in the medical field, his passion for music remains present as he actively singing for the audience of the choir and at Gables, even during his spare time. 
Leave a Comment
Your donation will support the student journalists of Coral Gables Senior High School. Your contribution will help us cover our annual website hosting costs.
About the Contributor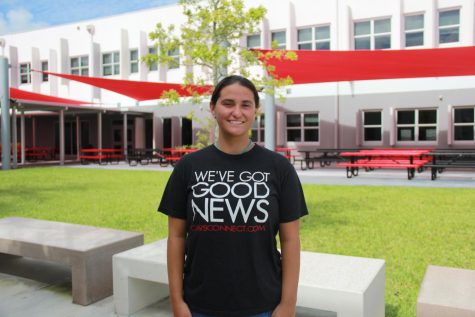 Jacqueline Rodero, CavsConnect Staff Writer
Jacqueline Rodero is a senior in the International Baccalaureate program. This is her second year as a CavsConnect staff writer. As she closes her time...