Gablettes Graduate: Emma Bartelt and Demi D'arcangelo
Two of Coral Gables Senior High School's very talented seniors have officially committed to Florida state schools. Demi D'arcangelo and Emma Bartelt share their love of dance and dedication to the Gablettes dance team, as well as their achievements in having been accepted to several universities.
Emma Bartelt
Senior Emma Bartelt is ready to wrap up her time as a part of the Coral Gables Senior High School community as she looks towards her future beyond graduation with the announcement that she is committing to the University of Central Florida.
Bartelt has been extremely involved in the Gables environment. She is co-captain of the Gablettes dance team and a club member of Andrea Jaime Medical Leaders, Key Club, National Honor Society and Future Business Leaders of America. Bartelt shares that AJML was definitely one of her favorite extracurriculars since she plans to major in Health Sciences at UCF. She believes that the knowledge she has learned in the club allows her to pursue a profession in the medical field.
Bartelt chose to commit to UCF for numerous reasons. Not only did she hear lots of good things about the school, but she fell in love with the campus when she visited during the in-state college tour. In addition to this, the campus is not too far from her home, allowing her to visit home with ease whenever she chooses.
Bartelt applied Early Action rather than Early Decision to UCF, so she would not be bound to go there had she been accepted ED. Other schools she was considering were the University of Alabama and Florida State University.
"I had other schools that I was also interested in and I didn't want to commit to one without hearing back from the other schools," senior Emma Bartelt said.
To future seniors, Bartelt suggests starting college applications as soon as possible. She also suggests starting by first researching schools by creating an Excel spreadsheet listing all the schools with pros and cons. Taking the time to carefully pick the best available option was an important part of the process of deciding what school she would attend for the next four years.
"The application was definitely very long and tedious. There were many questions and requirements that needed to be completed," senior Emma Bartelt said.
Overall, Bartelt is ready to start this new chapter in her life as a Golden Knight in the fall.
Demi D'arcangelo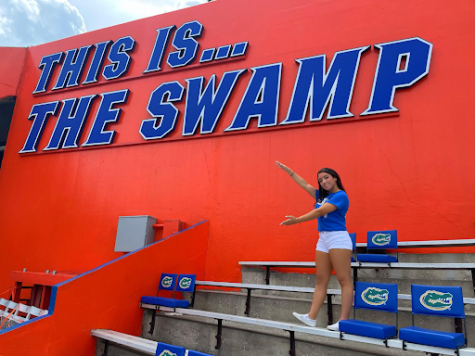 Senior Demi D'arcangelo recalls the days she would drive up to Gainesville and eagerly watch the University of Florida's sports games. She feels as if she was practically raised around the campus, and as she grew up she knew she wanted to follow in her mother's footsteps. D'arcangelo also felt that the school is very well-rounded and would have many options for her to explore and choose from.
D'arcangelo was also accepted to the University of Miami, University of Alabama, Clemson University, Florida Atlantic University and the University of Louisville.
"It was financially the best option at the same time as being the best education out of all of them. I got accepted through Innovation Academy, which best fits my personality," senior Demi D'arcangelo said.
In addition to being in the National Honor Society, D'arcangelo has been part of the award-winning Gablettes dance team, one of the three dance teams we have here at Coral Gables Senior High. She hopes to continue her dance career at UF. However, if she is unable to, she looks forward to joining a sorority. She plans on obtaining a major in business and a minor in innovation.
"I am looking forward to being somewhere new and growing as a person in my own environment," senior Demi D'arcangelo said.
Darcangelo's best advice for the current juniors, who will be going through the same process next year, is to enjoy this time while they can and enjoy the company of the classmates they have grown up with in the last four years. She shares that after college, everyone will take their own path and embark on their own journey. Academically, she believes it is important to start looking into colleges you would like to consider and to plan ahead so that once deadlines roll around, the stress is manageable.