In Cartoonists We Trust: Here's Jason Adam Katzenstein
From novelists to screenplay writers, there are a multitude ways of storytelling in the world of writing that are, oftentimes, unbeknownst to many. Usually, cartoonists do not make the cut for being some of the most impactful storytellers of today even though an image can speak a thousand words. Regardless, Adam Jason Katzenstein rivals these unparalleled standards.
Katzenstein is a freelance cartoonist specializing in comedic politics that have been featured in The New Yorker and Current Affairs, doubling as an accomplished novelist and illustrator for fictional novels. Born and raised in Los Angeles, Calif., he has always loved anything related to art. "My parents were very encouraging, and not only of art as a hobby but also made it clear to me from a young age that it could be something I could do as a career," cartoonist Katzenstein said. With that, he was able to submerge himself into his passion by going to comic conventions and taking a multitude of different art classes.
After high school, he attended Wesleyan University in Connecticut, studying English and Writing. It was a vastly different setting compared to the fast-paced living in his hometown. He enjoyed living on the east coast, getting to experience a routine he had never been exposed to before. While there, he had an internship at Mad Magazine where he learned comedic writing and created graphic pieces. During his senior year, he was even able to create a short graphic novel for his thesis with one of his favorite professors overseeing it. Looking back, Katzenstein considers it to be "the most ambitious comic [he] had worked on". After college, he moved to New York City to continue his cartooning journey.
In New York City, the headquarters of some of the most prestigious and famous newspapers in the country, he began pitching his cartoons to The New Yorker. After just a few months, he sold his first cartoon to them and continued working on a freelance basis. Currently, Katzenstein is a professor at his alma mater teaching Writing and Drawing Comics.
"It was crazy, I mean, I started teaching the class when I was 26 and I just felt my students could figure out I'm a kid. Now, I'm 30, so I feel just old enough to be there. But, it's like walking through a dream a little bit. I find I'm constantly asking my students, is this still there, this still happening?" Katzenstein said.
Since everything in-person has come to a halt, he teaches his class via Zoom and spends his time working at Current Affairs magazine, creating comedic pieces for them. When it comes to comedy and politics, non-partisanship is not necessary. As he spoke on how it is like formulating such cartoons, he mentioned, "I try to be honest with my work and sometimes there's a pushback…I want the work to speak for itself because of this [predetermined] fictional idea we've created that work is always neutral". He takes a holistic approach while working and acknowledges that whether we like it or not, every joke has something that it's criticizing or "somehow taking the wind out of the sails," as he likes to put it.
Channeling his incredible ability to make intricate graphics, he has now become involved in novel-making. One of his first book illustrations out of college was for a series called "Camp Midnight" and its successor "Camp Midnight Vs. Camp DayBright" written by one of his mentors, Steven T. Seagle, the creator of Ben-10. Working so closely with one another, Katzenstein remembered how inspiring it was to see Seagle, "take all questions about cartooning seriously at comic conventions…it didn't matter if you were 6 or 25 years old, he'd answer the question to the best of his ability".
Along with Seagle's novel, a more recent book he contributed to was "The White Man's Guide to White Male Writers of the Western Canon", written by his longtime friend Dana Shwartz. What started off as a Twitter handle Dana created, pretending to be, as Katzenstein mentions it "a classic jerk in a writing program that thinks he knows everything," became a book deal. This further proves how sometimes our "crazy" ideas are not so crazy after all. It takes a different approach of understanding different writers' writing styles like Hemingway, through the lens of "his kind of jerk voice".
Continuing his artistic adept, Katzenstein recently wrote and illustrated his own personal novel on his battles with OCD through a series of personal comics called "Everything Is an Emergency: An OCD Story in Words & Pictures". New York Times Book Review Editors' Choice described it as "a brilliant, honest, necessary book that exposes the intricacies of the human brain while showing us the way creativity and friendship can anchor us". From a young age, Katzenstein had specific compulsive behaviors that he felt were too embarrassing to talk about: he ultimately opened up to the people he loved and they understood way more than he thought they would. After reading a book filled with testimonials of people who had OCD, he knew he wanted to make a book on his own journey. He mentions how it can be really scary and debilitating but other times can be humorous. Katzenstein describes this as "an evolving relationship that requires dynamic understanding".
Cartoonists often work behind-the-scenes to portray some of the most powerful and moving messages to the public. Katzenstein's endless contributions through his imaginative creations continue to be at the forefront of both social and political change. To follow along with his journey and and learn more about his career, his instagram handle is @j.a.k_ . [powr-instagram-feed id=f6faa1aa_1609951725646]
Leave a Comment
Your donation will support the student journalists of Coral Gables Senior High School. Your contribution will help us cover our annual website hosting costs.
About the Contributor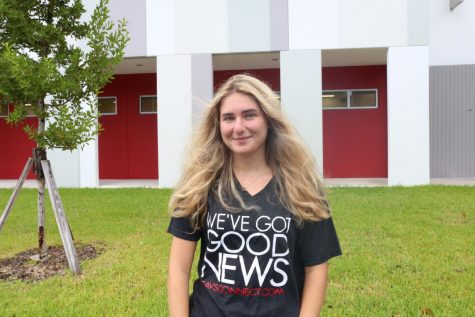 Lauren Gregorio, CavsConnect Opinion Editor
Lauren Gregorio is a senior in the International Baccalaureate program entering her second year as the opinion editor for CavsConnect. In addition to...