Lookout Music Industry: Here Comes Aidan Remedios
Since his move halfway across the globe, Aidan Remedios has sacrificed much to attend Coral Gables Senior High. Three months ago, he and his family took a long trip all the way from Bangalore, India, to Miami, Fla., leaving behind his past. Although it was difficult to adjust at first, he has always turned to his music for guidance. With an opportunity to start fresh, Remedios is determined to chase his musical dreams in the United States.
"It was hard to leave all my friends in India and get out of the usual routines I followed, but I prepared myself enough to be able to expect what things would be like here. So far, it's been great, and I've met so many new people. It feels like I've finally made a home here," freshman Aidan Remedios said.
"
What I love most about music, especially classical, is that it can express emotions better than any other form of art. I think it's beautiful that music is able to tell a different story to everyone who is listening,"
— Aidan Remedios
Growing up in India, Remedios's parents always played a variety of music in the house. By the time he was 8 years old, Remedios inherited the generational love for music and started playing the piano. While developing his skills, he also picked up the guitar and the harmonica. His parents enrolled him in lessons, further opening him up to the world of music-making, and from that moment on, he knew music was going to be a forever part of his life.
At the age of 12, using his prior knowledge of the piano and guitar, he felt ready to take the next step in his musical career: producing. The process of producing electronic and bedroom music was time-consuming, but it helped him improve his already-acquired skills. During this time, he wrote 14 songs that he organized into "Orange Benefits". Remedios spent five months mastering and changing each song before releasing them on streaming services.
Remedios practiced and produced work consistently, hoping that his songs would make it big one day. Now, he has multiple singles out already on Spotify, his most recent song being "Miami". This instrumental was inspired by his experiences here thus far and his hopes for his future in the city. Composing beats and tracks, his songs are reflective of his feelings, bringing forth his most intimate emotions through classical music.
Remedios is currently practicing to pass his grade eight exam, the final and most difficult piano test given offered by the Associated Board of the Royal Schools of Music. ABRSM offers a rigorous music curriculum and multiple exams focused on musical knowledge. Passing this exam would earn him the certification many of the highest-ranking universities look for in the music world. Four years from now, he can see himself attending the Julliard School or Berklee College of Music, centered around the arts.
As he continues to learn about producing music, he strives to become as successful as his idols: Martin Garrix and Alan Walker. Garrix is a Dutch disc jockey, who was ranked number one on DJ Mag's Top 100 DJs list for three consecutive years. Walker is a Norwegian DJ who produced his own single called "Faded", certified platinum in 14 countries. One step closer to celebrity status, Remedios has also previously trained with famous Japanese concert pianist and victor of awards such as Special Composers prize, Takafumi Mori. His success in the music industry gives him hope, as he aspires to be just as talented as they are in the future.
"I don't plan on going back to India in the future. The infrastructure and the culture there are much different from Miami. I can see myself staying in the United States for the rest of my life. Hopefully one day, I will be recognized enough to win many awards, including a Grammy," freshman Aiden Remedios said.
Seeing Gables as an important stepping stone along his pathway to success, he is currently enrolled in a keyboarding class, bringing a bit from home into the U.S. His newly acquired friends have helped him become more comfortable in the Miami culture, sparking new motivation and musical ideas. With determination and hard work, he plans on achieving his dream musical career.
View Comments (2)
Your donation will support the student journalists of Coral Gables Senior High School. Your contribution will help us cover our annual website hosting costs.
About the Contributor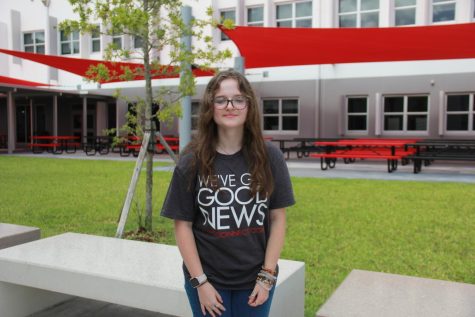 Kate Kuryla, CavsConnect Staff Writer
Kate Kuryla is a freshman in the International Baccalaureate program starting her first year at Coral Gables Senior High as a staff writer in CavsConnect....