CavShop: Mrs. Feeney's SPED Class Contributes with Campus Essentials
As Florida's largest school district, Miami-Dade County has a handful of schools and institutions that teach Special Education and Exceptional Student Education programs, integrating these students in a campus where General-Education classes are the majority. At Coral Gables Senior High, Ms. Feeney ensures that the SPED department offers all children the opportunity to learn from a curriculum tailored to their demands, a feat that has fostered a sense of belonging for students with special needs.
During the early portion of her time at Gables, Feeney worked with the inclusion classes of the SPED program where she was already well-acquainted with the kids, having worked with them during her college internship. However, when a change in staff called for a new leader, Feeney was offered the teaching position she dreamed of; one where she could teach students with Autism and other disabilities, further expanding the SPED program's reach.
"Having an in-house transition program for them to work was something I've always wanted to push for. Because… I want them to have a purpose. I want them to come to school and enjoy being in school and they're still applying everything they learned the first four years they were here, but actually apply it in a real-life setting," Mrs. Feeney said.
The SPED curriculum allows students to stay in high school until they are 22, and after their four years of academic learning, gain the choice to participate in Project Victory and various similar transition programs.  Despite the opportunities outside the campus walls, Feeney strove to invent a means for her students to learn the values and lessons of independence while students were still Cavaliers.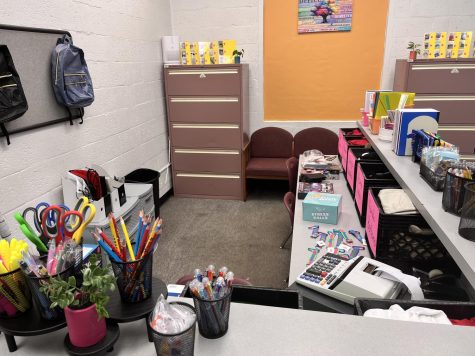 After running her idea by the administration and getting the thumbs up, Feeney's students, who were part of the Summer Youth Internship Program, helped her put together CavShop. Its products were stocked with the help of community donations, school fundraising and contributions from Feeney herself. Planning to use the posters and commercials that the SYIP students created, Fenney is working towards promoting the shop around campus. The collected funds from the shop will go towards a Banquet celebration for her SPED and ESE students, instead of their usual end-of-year celebration in the library.
"We've done a great job but I've kind of outgrown the space because we do have a lot of people in the community that come to see the graduation so I'm hoping for being able to like rent out a banquet hall and being able to use the funds that we make from this to be able to pay it all so it's free of charge for the kids and the parents," Mrs. Feeney said.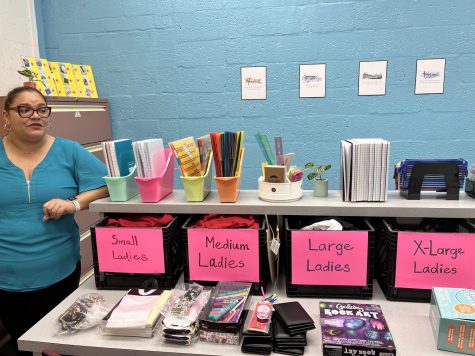 CavShop will be run by the students in the SPED and ESE classes, some of which will be managing sales and expenses as cashiers, while others will be running the uniform exchange. Feeney imagines it to be two stores: one where students who are out of uniform can avoid detention by borrowing Gables polos and bottoms, and one where students can buy basic materials such as school supplies, paper, binders, feminine hygiene products and other miscellaneous items. Feeney and her students also plan to sell balloons for birthdays, holidays or even as thank yous.
"[Teaching SPED] didn't feel like a job to me. I always felt like I was just, you know, when you're little like you play store, you play teacher… I always felt like it was something that I was really passionate about and I really enjoyed doing," Mrs. Feeney said. 
Since she began high school, Feeney knew her future profession would either involve public relations or being a teacher for SPED students. As her future led her toward becoming a teacher, Feeney was prepared to take on the role of not only an educator, but a mentor to others. Although the shop might only take up a classroom, it takes up much more space in Feeney's heart, being a project that will equip students for the rest of their lives. 
Leave a Comment
Your donation will support the student journalists of Coral Gables Senior High School. Your contribution will help us cover our annual website hosting costs.
About the Contributor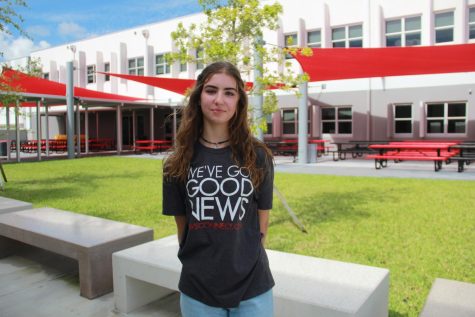 Marina Astorga, CavsConnect Staff Writer
As a freshman in the International Baccalaureate program, Marina Astorga is very excited to be a part of the CavsConnect family so she can pursue her passion...