Hoya Saxa! Sara Rabell Accepted at Georgetown University
It is the most stressful time of a senior's high school career: college application season. Although seniors were hit with a COVID-19 curveball this year, they still managed to apply to their future colleges. Luckily there is some relief from all the stress for one senior, Sara Rabell, who was accepted early action into Georgetown University.
Rabell is highly involved in the Coral Gables Senior high community. It all began when she became vice president of her class during her freshman year and then later her sophomore and junior years, and finally transitioned into President of Student Council during her senior year. In addition to these achievements, she has been a part of the Key Club board since freshman year, and is currently co-president of the club. She is a part of both the National Honor Society and the International Baccalaureate Honor Society. Lastly, she has been a member of the Gables varsity swimming team for four years and the waterpolo team for three years.
Rabell's first choice for college was Georgetown University. It has been her dream school since her sophomore year; the fact that it is in a major city so she can find internships and work easily after graduating college caught her eye at an early age. The university also gives her an international perspective, which is perfect since she is interested in business management or international business and speaks four languages.
"I love everything about it: the people, location and most of all their school of business," senior Sara Rabell said.
She applied for early action in Oct. 2020 to Georgetown after working tirelessly on her application all summer. She then interviewed with an alumni who was also from Miami, and afterwards was convinced that Georgetown was the school for her.
"
I was in that interview for over an hour. It was probably one of the best conversations I've ever had. He told me so much about Georgetown that I just completely fell in love with the school,"
— senior Sara Rabell
Other than Georgetown, Rabell has applied to 14 other universities and does not plan to apply to any more. Some notable universities she applied to were: University of Pennsylvania, Duke University, Columbia University, New York University, University of California Berkeley, and University of California Los Angeles.
"Out of all my friends, I had never changed my dream of Georgetown. At one moment I started looking into UPenn but I couldn't find a better fit for me than Georgetown, " senior Sara Rabell said.
To future college applicants Rabell suggests to start as early as possible so one can investigate, research and try new things. She also highly recommends trying to apply either early action or decision.
As of right now, Rabell is very pleased with her acceptance to her dream college, Georgetown University. She would love to be a future Stonewall cheering Hoya Saxa around campus, but is keeping her options open at the moment.
About the Contributor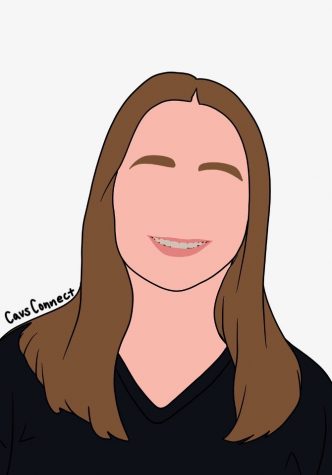 Audrey Simon, CavsConnect Staff Writer
Audrey Simon is a rising sophomore in the International Baccalaureate program at Coral Gables Senior High and a second year CavsConnect staff writer. She...