HIP Kicks Off The School Year Virtually
The Health Information Project is a club at Gables that focuses on helping freshmen become aware of their health throughout their years in high school. HIP members, also known as Peer Health Educators, are juniors and seniors that go into 9th grade World History classes several times throughout the year to teach lessons about important teen health information. Every time HIP goes to a class, they teach a lesson on emotional, physical or mental health, alongside lessons about inclusiveness and tolerance. The transition into high school is difficult and a journey where you meet all different types of people. As teachers, PHE's are facing challenges with how they are going to kick off the school year, due to students being split between online and physical classes.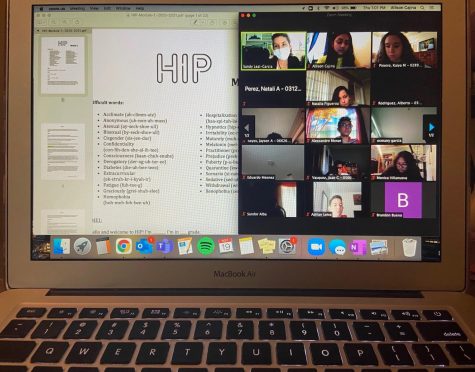 This year, HIP will be using Nearpod, an online platform for teacher presentations, to teach online and in person. In the beginning of the session, students are asked to enter a code and follow along with the PHE's during the presentation. This platform has made things run smoothly in classes so far, and have made it possible for even more students to engage in the class. In person, it is possible many students feel shy to participate. However, online there are options during the presentation where students can type in what they have to say and do not have to speak up. As for the PHEs and students that are physically at school, they just follow through everything in person, like a regular presentation would be.
"It is really hard to communicate with everyone at the same time when some students are online and some are physical. I think that it is a challenge but there are many solutions," senior Savanna Tiffany said.
When teaching, it is easier to communicate ideas and conversations are more interactive. This is definitely a downside to online teaching, but it is not impossible and there is always room for improvement to technological issues. PHE's have expressed a concern over the distractions students may feel at home that are harder to control than if they were in person. For example, in person PHEs have always been able to control if students are using their phones or working on other assignments during class. Since they are not able to see exactly what students are working on online, it is hard to control the attention students are giving to the important information that is being provided.
"I think it will be easy for us to teach but it all comes down to whether the class will genuinely pay attention to us when they are so surrounded with distractions in their home," junior Leo Lopez said.
As many clubs and sports at Gables adjust to a new lifestyle, it just shows the resilience of Cavaliers. The switch from physical to online has been difficult but many have been able to do the best with what they have. HIP will continue to host online and physical presentations until it is safe for everyone to return to school.