Not All Heroes Wear Capes: Alumni Jennifer Mooney Piedra
The year 1998 was a year to remember for Jennifer Mooney Piedra, Senior Director of Communication and Outreach at Jackson Hospital. That was the year she graduated from Coral Gables Senior High and began the journey that lead her to where she is today.
Throughout her high school experience, Piedra was a hard-working and excellent student. She wrote for the school's newspaper, which was Highlights at the time. She was part of the morning announcements and would start off everyday by informing the rest of the Cavaliers about any updates or important events coming up. Piedra was also a part of Ms. Suarez's Student Activities board, where she worked with the rest of her classmates to plan and organize school events. She was able to create such a bond with the rest of the students that she worked with, that she remains in contact with many of them today.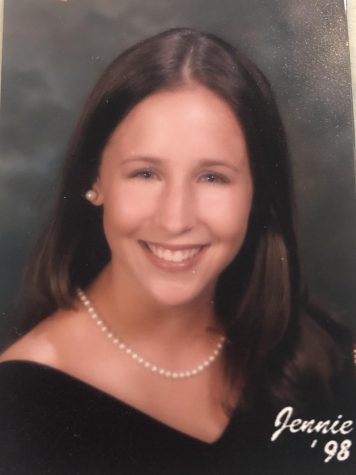 "At Gables, I learned the value of hard work and determination. The only person who can stop you from achieving your dreams is yourself." alumna Jennifer Mooney Piedra said.
After high school, she attended Florida State University -FSU – and Florida International University – FIU. In college she mainly focused on journalism and communication. One of her professors connected her to an editor of the Miami Herald which was the start of her career there. She wrote for them until she graduated college in 2002.
After college, Piedra had an internship in the Denver Post in Colorado for a while, then moved back down to Florida to continue her career at the Miami Herald. Her job was to cover the crime and breaking news articles, and she loved it with a passion. Everyday brought something new and exciting which was what made her job so fun.
" […] One day I could be covering a political feud at a city council meeting and the next day I could be covering a shooting in a post office parking lot or knocking on the door of a stranger's house for an interview. At times, my job was terrifying, but I loved the adrenaline rush of getting the story first." alumna Jennifer Mooney Piedra said.
After having her first son, Cooper, Piedra decided she wanted to move into a more stable job but that was just as exciting as working for the Miami Herald. So, in 2009 she left the Herald and joined the Jackson Hospital staff of about 13,000 employees. She is now the Senior Director of Communication and Outreach. Her job is to manage all of the communications occurring inside and outside of the hospital, working on how Jackson Hospital is seen and represented. The reason Piedra has so much pride in her job at Jackson is because of the goal that all 13,000 employees are trying to reach. Everyday, they ensure that each of their patients gets to receive the treatment and care that they deserve.
According to Piedra, the best thing we can do in these uncertain times is to stay home and limit any contact that can result in the transfer of germs. The healthcare workers are doing their part, so it is time to do ours. Piedra has used the experience she gained from her time at Gable and the lessons she learned to reach where she is now, and she will always have that with her. Once a Cavalier, Piedra also will always be a Cavalier.