Winter Break in Miami
Many people travel to different places all around the world for the holidays, but Miami is also an excellent place to spend your winter break! However, participating in exciting events while on break can be overly expensive. For this reason, we researched different events that are not only entertaining, but also free.
Moonlight Yoga: Dec. 22 from 5:30 p.m. to 7:00 p.m.
It is super important to reserve some time for yourself, especially in preparation for the new year. The holiday season may be a stressful time as we run around preparing gifts, planning parties and participating in Secret Santa or White Elephant parties. A perfect way to de-stress is by practicing yoga. This event at Equinox South Beach allows you to relax under the moonlight at the beach with instructor Adrian Molina. This guided yoga will help you enter the holidays stress-free.
"Yoga is beneficial because it focuses on both mental and physical strength. It's a great opportunity to connect your mind, body and soul," junior Marina Tischenkel said.
Movie Under the Stars: Dec. 26 from 8:30 p.m. to 10:00 p.m.
Atton Brickell Miami is hosting this free movie screening featuring lots of food and drinks. Celebrate Christmas by gathering your friends and family members to enjoy popcorn and the movie "Elf." The rooftop has a pool and a magnificent view of the city! If you have family or friends visiting Miami for the holidays, this is the perfect event to take them to.
"
Going to such an event like a circus show is not only very entertaining for the children but also for the adults. Circus shows can be a very important factor because it helps families get together and explore new and different things. It is not every day that children get to see a magic show."
— senior Katherine Lopez
Riverside Circus: Jan. 3 12:00 p.m. to Jan. 7 12:00 a.m.
Will you have little kids running around your house this holiday season? From Jan. 3 to Jan 7 the Wharf will be hosting a Riverside Circus. Not only will you be able to watch clowns, acrobats, magicians, dancers, mimes and stilt walkers, but you can also enjoy food and drinks by the river! The event is for both adults and children, so do not miss out on these free performances at the Wharf Miami all day and all night!
Giralda Under the Stars: Jan. 4 from 7:00 p.m. to 10:00 p.m.
The Coral Gables community will be coming together on Jan. 4 at the Giralda Plaza to celebrate 2019 with outdoor dining and live music. Enjoy a delicious meal at Fratellino Ristorante, Bellmont Spanish Restaurant, Ortanique and many other restaurants on Miracle Mile. Even if you do not live in Coral Gables, you are still encouraged to attend this beautiful event. Bring your significant other along for a romantic evening singing along to local bands and eating your favorite food. Gather your friends and family for a great night.
Take advantage of these beautiful opportunities to go out and have fun during this winter break. It is always important to take your mind off school and work for a while so that your mind and body can be renewed and ready for the new year.
About the Contributor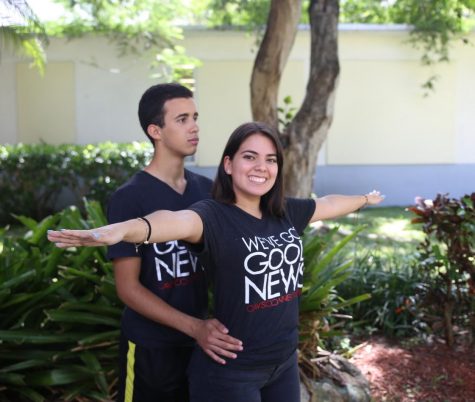 Guiliana Garces, Staff Writer
Guiliana "Gigi" Garces is a senior in the International Baccalaureate (IB) program at Coral Gables Senior High School. As a new member of the CavsConnect...