Pollard: Loving Coach and Alumnus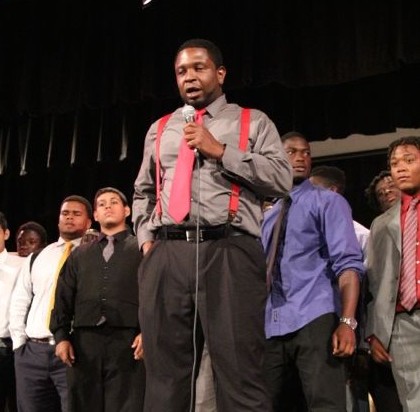 1. What's your name and what do you do in the school?
Roger Pollard, I am the Sociology and American Government teacher as well as the head football coach here at Gables.
2. How did you decide you wanted to coach football?
I think I fell into it; I played football all of my life. I came back and always wanted to be a teacher, unfortunately. I fell into coaching just for the love of the game and I ended up being blessed with the ability to be the head football coach at my alma mater.
3. You are a Gables graduate. How was your time at Gables?
My time at Gables was fun. Anybody in high school doing activities, whether it's football, basketball or just running around, is doing the most important thing while getting their education- it's a wonderful time in everybody's life.
4. What year did you graduate in?
I graduated in the year 2000.
5. What made you come back to Gables?
I don't know. I think in the water they give us, they put little magnets so that we were attracted to that Gables aura. Honestly, I wanted to build something that I thought people would remember through our football program and I also want to give young kids the opportunity to further or better their lives by teaching them that education is the most important.
6. Since when have you been teaching at Gables?
I was teaching here from 2005-2009. Then I went to Tennessee to get my masters as a grad assistant, and then came back and taught from 2011 up to now.
7. What's your favorite part about your job?
My favorite part about my job is the students: seeing kids grow up, seeing young boys turn into men, seeing my players mature (well maybe not all of them), going through that natural maturation process and being able to say that I had a part in that.
8. How would you describe your coaching style in three words?
Tempo, harsh and loving.
9. If you weren't coaching, what would you want to be doing?
I would be trying to make money, so I wouldn't be teaching. If there was anybody I would want to be when I grow up is Joey Hudack. Let's talk about him: he beat Columbus no matter what, he's gonna win district finals, and he holds the longest field goal in CG football history.