Vision for Haiti
Q: What grade are you in?
A: I'm in 12th grade
Q: Where are you from? Would you say that your childhood experiences influenced your project?
A: I am from Arizona, and no they did not.
Q: Describe your CAS Project.
A: My CAS project involved collecting used prescription and reading glasses for the visually impaired.
Q: What is a CAS project?
A: It is the community service portion of the IB diploma.
Q: How did you come up with this idea for your CAS project?
A: I'm myopic myself, and I realized the burden that it could have on someone who is myopic or hyperopic and does not have the resources to get glasses.
Q: What teachers helped you set up the drive?
A: Mrs. Zuniga and Ms. Suarez.
Q: What was the process you went through to be able to do the drive in school?
A: I contacted and talked to a few teachers at school and for those that agreed, I had placed a box in their classroom for a period of two weeks so that students were able to drop in any glasses they had lying around at home.
Q: What made you want to choose this idea rather than choosing another idea?
A: I didn't have any other idea, so I didn't have to choose between another one.
Q: Did you go to Haiti and give out the glasses? What kind of experience was that for you?
A: Yes, I did, and it was a very enriching experience because I was able to see the impact that the glasses had on the lives of the people.
Q: How long did you stay in Haiti?
A: Three days.
Q: Did you collect glasses only from school? Who else helped you collect so many?
A: No, not only from school. I also collected glasses from the store that I spent every sunday calibrating the glasses at and I placed two ads in a french newspaper and in an online newsletter.
Q: When did you start the project?
A: October of 2013.
Q: Describe the best part of your experience.
A: The best part of the experience was definitely taking the two suitcases through the airport and a huge bag full of glasses -and immediately after I landed, a friend picked me up and we drove to the mountains, to the clinic, and I met up with a doctor that I was in contact with where she was training a couple of nurses and we spent the whole day distributing glasses and offering free eye consultation to people in the village and people who had walked kilometers to get glasses. It was very moving. It was a great day.
Q: Did you take pictures?
A: I did; I put them on a Facebook page – Vision for Haiti.
Q: Did you pay for the trip?
A: Yes, I did.
Q: Are you continuing this project in the future? Is someone else continuing it?
A: I'm handing the reigns to my sister, who has a few new ideas.
Q: Describe how you felt about helping.
A: I felt very touched about helping. I was happy to see the impact that I could have on the lives of so many people with just glasses we had that we don't use anymore. I know that many of the people that received the glasses do not know how to read or write, so the glasses they received will help them with small tasks like sewing or cleaning their rice at home.
About the Writer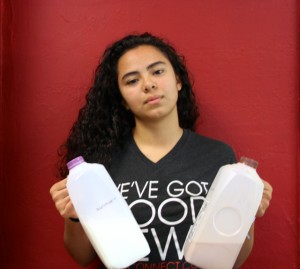 Kelsy Pacheco, Sports Editor
Kelsy Pacheco is a junior in the IB program at Coral Gables and cannot wait to see what this year awaits. She is happy to once again join the CavsConnect...