Your Summer Survival Guide to the Perfect Tan
Summer is the best time to lay by the pool, listen to some music, and enjoy the sun…carefully, that is. However, in order to get a dreamy summer glow, one must first consider the risks and measures accompanied by sun exposure.
It is key to understand how tanning works and how to protect ourselves from the sun while enjoying its benefits. In order to obtain the ideal tan, you should consider the following:
Understand How Your Body Tans: When exposed to UV light, our body defends itself by releasing a pigment called melanin, which acts as a natural damage protector of our cells' DNA. It is important to remember that some people produce more melanin than others, which explains why some people tan faster or darker than others.
Mind the UV index: The UV index is a scale that shows how strong the UV radiation is at a particular moment. The higher the UV index, the higher the risk for sun damage and the more cautious you should be when exposed to the sun. You can check the UV index by typing in your zip code.
 Know SPF: "SPF", or Sun Protection Factor, indicates the strength of protection a sunscreen has against the sun. The higher the SPF, the longer you can be in the sun before burning. In order to tan, you should always aim for sunscreen or tanning lotions with SPF higher than 15.
Keep Your Skin Happy:  A flawless tan is most easily obtained with moisturized and healthy skin. In order to do so, moisturize daily with a lotion of your choice and remain hydrated by drinking the suggested  8 cups of water daily.
Use UV Protection: Tanning products that contain a subtle tint are highly recommended; they not only help you tan, but they also give you a nice glow by mere application.
Try Carotenoids: Your skin will immediately benefit from a healthy diet rich in veggies and fruit. Some vegetables contain high concentrations of carotenoids, which are naturally occurring, cancer-preventing pigments that serve as antioxidants in our body. It has been proven that a diet high in carotenoids will help the body produce more of its natural pigments, like melanin. Some of these "super foods" include: carrots, tomatoes, olive oil, and spinach.
Avoid a Sunburn: Sunburns are not only painful, but also highly dangerous. The risk for melanoma or skin cancer doubles with 4-5 sunburns.
By following these tips, you will not only get a perfect tan, but you will also be safe from harmful UV radiation.
About the Contributor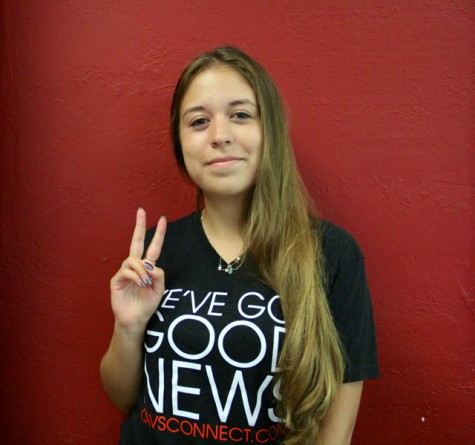 Daniela Quijano, Managing Editor
Daniela Quijano, or "Dani" as you may know her, is a junior who is proud to be a CavsConnect editor. Originally from Medellin, Colombia, she has lived...