5 Seconds Of Summer New Album- We Can't Keep CALM!
Album: CALM
Band Members: Calum Hood, Ashton Irwin, Luke Hemmings and Michael Clifford
Release Date: March 27, 2020
Our Rating: A+
After nearly two years of waiting since the release of Youngblood, the 5SOS Fam were gifted with the release of 5 Seconds of Summer's new album titled CALM. Conveniently, the title was made up by the first letter of their names, which excited fans even more. Lead singer, Luke Hemmings, stated that the name is also a "special ode to fans," since many have used the CALM acronym in the past. The album was set to release at 12:05 a.m. and each band member decided to go live on Instagram to listen to the album themselves, along with the public. Fans were beyond excited and were tweeting about how good the album was and what their favorite song was.
The pop rock band's new album is quite different from their other studio albums. CALM definitely has a different feel to it, but the band's characteristic fast paced beat is still in the majority of their songs.
"This new album really proves how good of a band they are and the effort and determination they put into all their songs. Each song has a certain mood to it and I love it," senior Jefrany D'Catry said.
So far according to many Twitter users, they have been replaying the album on repeat. Below are some songs off CALM that caught the attention of many.
Wildflower
Wildflower is the 6th track off the album. Fans of bassist Calum Hood were beyond happy to find out that Wildflower is sung by him. This song is very upbeat and of course has the band's fast paced touch to it as well. Wildflower is actually a great song to workout to since it puts one in the mood to either go for a run or work hard at the gym. Overall, this song will hype anyone up and is one of the best songs off of CALM.
Best Years
Best Years is a very different song from Wildflower. As the 7th track of the album, Best Years definitely has those late night car ride vibes. Alt
hough this song is not a work out song, it is very calming with its slow paced beat and ballad elements to it. Sung by Luke Hemmings, his vocals provide more of a calming effect when listening and many can even relate to the lyrics. Hemmings posted on the 5SOS Youtube account an acoustic version of the song. Fans love the song and his acoustic version just as much. Best Years is definitely giving fans those great feeling car drive vibes.
"I really do appreciate the song. From the lyrics to the harmonies, it gives a heartfelt and passion from the perspective of one person in the relationship and you can feel the resentment the speaker has in this case for themselves for not treating the person they cared for in that moment enough. The emotion is clear through the lyrics and the harmonies tie the atmosphere of the song together," senior Denise Cuevas said.
Lover of Mine
The 9th track of the album, the intro to the song is absolutely beautiful. The song starts off slow and then starts to pick up the pace, yet maintains somewhat slow instrumentals. The song seems to be about not wanting to lose a significant other, which many listeners can also relate to. Lover of Mine is also sung by Luke Hemmings, but what really got fans "awwing" was that he wrote this with his girlfriend, Sierra Deaton. Deaton is also a singer/song writer with an amazing voice and fans can not help but love them as a couple and, of course, as a singer herself. Not only do the fans love the song, but they love that Hemmings and Deaton wrote it together.
CALM is an amazing album with tons of great songs. Even though 5 songs were previously released before the album as a whole, there were still 7 other songs that left listeners surprised by how good they are. Although many wish that they could have heard more of the other members singing, they all put an incredible amount of hard work and dedication into making this album as best as possible for their fans.
Amidst all that is happening in the world, this album has made millions of fans all over the world incredibly happy.
About the Contributor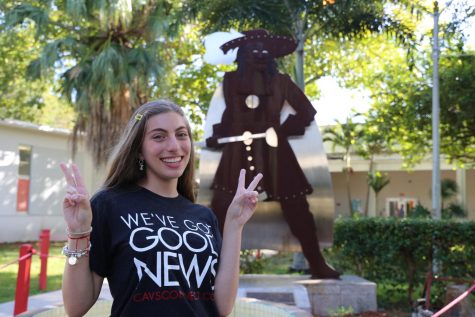 Emma Garcia, Staff Writer
Emma Garcia is a senior in the International Baccalaureate (IB) program at Coral Gables Senior High. As a staff writer, she hopes to write meaningful articles...