There Is Nothing Holding Him Back: Shawn Mendes the Tour
Artist: Shawn Mendes
Genre: Pop
Concert Date: July 28, 2019
Our Rating: A+
Shawn Mendes, the Canadian singer who has captured the hearts of fans from all over the globe, is on his third world tour. Mendes began his road to success on the Vine app, where he posted covers of different songs. After gaining ample attention, he was asked to join the Meet and Greet Convention (MAGCON), with celebrities like Cameron Dallas, Nash Grier and Matthew Espinosa. His growing stardom led him to leaving MAGCON and creating his first album titled "Handwritten".
Mendez commenced his professional career in music small venues, and by the release of his second album -"Illuminate"- he was booking arenas. His fame grew significantly, and his success has been made apparent by his third and current tour. Currently, tickets for the arenas he plays in sell out in a matter of minutes.
As of now, Mendes has toured Europe and North America, and will soon be on his way to South America. The crowds are louder and bigger than ever, especially on this tour. He has loved the energy from every city he has visited. Notable cities he has performed in include London, his hometown of Toronto, Los Angeles and Miami.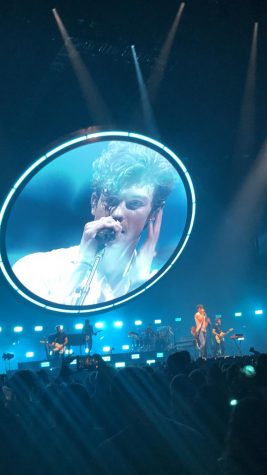 When Shawn Mendes came to the 305, the Miami crowd expressed their love for him in the best way possible. They danced to every song he sang and belted each lyric at the top of their lungs; the Miami Heat's American Airlines Arena was jam-packed with fans enjoying the amazing performance by an even more amazing singer. Not only was the crowd energetic, but Mendes himself was jumping on stage and letting himself loose, exciting fans even more.
"His energy made the show much more fun because you could tell he was super into the songs," senior Kerly Soto said.
Prior to Mendes's stage performance, he held a meet and greet where he sat down with many fans and answered questions anyone had. He was very lively and even said that the energy of the crowd was something he looked forward to. His interactions with the fans made the concert much more intimate. Mendes would wave to sections of the arena and even tossed a few of his guitar picks to fans standing against the barricades.
During the second half of his performance, he ran to the B Stage and performed several of his songs, including "Ruin" and "Life of the Party" – his first ever single. He also sang a cover of Whitney Houston's "I Wanna Dance With Somebody".
Throughout the entirety of the concert, fans were all huddled together, recording every moment as they were considered themself fortunate to experience something so intimate and special.
The show did not start with Shawn Mendes, however. His opening act – Alessia Cara – delivered a great performance herself. Cara sang a few of her popular songs such as "Here","How Far I'll Go" and "Wild Things". She also sang "Out of Love" and "Comfortable", two hits off of her most recent studio album. Just like Shawn, she jumped around stage and interacted with fans.
"I thought Alessia Cara was really good and she had a lot more stage presence than her Jingle Ball performance, so it is good to see her grow as an artist and a performer," senior Isabel Jaen said.
Overall, this experience was not one to miss. Other than the long waits outside in Miami's sweltering heat, the show was definitely something many fans enjoyed and would undeniably do again. Mendes took the Miami show very seriously from the start, especially considering how loud the crowd was. Going off of the momentum that Alessia Cara had produced during the opening act, he delivered a great performance, leaving fans voiceless and extremely satisfied.