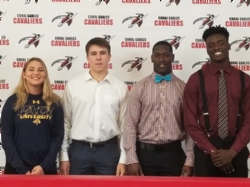 Chase Bagnall-Koger, Staff Writer

February 9, 2018

Filed under Spotlights, Student
Four Cavalier seniors signed their letter of intent on Wednesday, Feb 2, agreeing to accept sports scholarships to various colleges. After four years playing on the varsity soccer team at Coral Gables High, Jade Mallea signed her Letter of Intent to start a new chapter of her life. She will continue...

January 12, 2018

Filed under highlights, News (highlights)
Do you enjoy writing? Do you like photography? Do you enjoy working with layout design? highlights, the official Coral Gables Senior High news magazine, is now accepting staff applications for the 2018-2019 school year. Click the link below for the application!