After-School Cheap Eats in the Gables
Hang on for a minute...we're trying to find some more stories you might like.
After school, students are always struggling to find quality, reasonably-priced food. Many students do not have enough cash to go to more luxurious eateries, like Villagio or Brasserie Central. Although many students can afford places like Burger King and McDonalds, their food is not always the best in quality. Luckily, Coral Gables is filled with several dining gems where you can get mouth-watering food for cheap.
Taco Rico Tex-Mex Cafe: 473 S Dixie Hwy, Coral Gables, FL 33146
Taco Rico is a Tex-Mex cafe with authentic, freshly-made food that is known for quick service and exceptional taste. Many students rave about how scrumptious their tacos are. Taco Rico even has an app that, once downloaded, offers a 10% discount off your first online order.
In addition, they offer 99 cent tacos on Mondays, which is quite the steal, and even have a menu for vegetarians. Some of their more popular dishes include the Cheese Only Quesadillas and the Beef and Bean Burrito.
"The food is really good, and they always have the best service! Personally, I love their chicken bowl. It is jam-packed with flavor," freshman Melissa Requeny said.
Yard House: 320 San Lorenzo Ave. Coral Gables, FL 33146
Yard House is a delightful experience for anyone that goes. Their  large selection of food, ranging from burgers, to seafood and to pizza, makes Yard House ideal for large groups of friends.
They also offer their very own "Happy Hour" from 3:00 to 6:00 P.M., halving the price on all pizzas and appetizers! This is perfect for students after school, since usually Yard House can tend to be a bit on the pricey side.
Fortunately, Yardhouse's "Happy Hour" slashes their high-end prices in half, which is perfect if you are looking to get the most bang for your buck. They also have wonderful service, with wait times that are usually minimal. Some of Yardhouse's signature dishes include the Poké Nachos and the Moo Shu Egg Rolls.
"Yardhouse is a spectacular place to eat right after school and is perfect to go with a large group of friends. I especially love the Chicken Nachos appetizer. My friends and I always share it after school at least once a week," senior Rodney Michel said.
P.Pole Pizza: 279 Miracle Mile Coral Gables, FL 33134
P.Pole Pizza is a quick and healthy pizza spot in the center of miracle mile. For just seven dollars you can get a foot-long cheese pizza and, for just two more dollars, you can add endless toppings. They use fresh dough and ingredients for quality pizza that are ready in a flash.
P.Pole even has a variety of sauces, allowing their customers to get creative and enjoy a barbecue sauce pizza or even a pesto sauce pizza. They are even large enough to split with a friend, so students can enjoy a quality meal and a delightful conversation.
---
Not only have many Cavaliers eaten at these places, but thousands of Google and Yelp reviews rave about them. If students want to go out and eat with friends and eat healthier meals, these restaurants are all great local options to try.
About the Contributors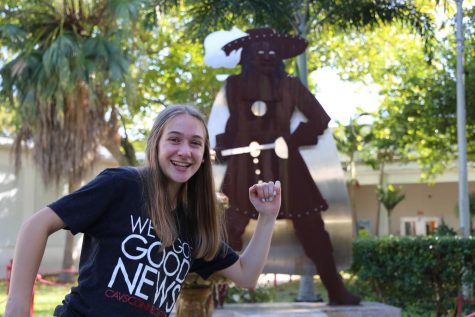 Audrey Simon, Staff Writer
Audrey Simon is an incoming freshman in the International Baccalaureate  (IB) program. She loves running and cooking. She has an interest in Chemistry,...