The Beauty of Fantasy Sports
With sports being back in full action, so is their counterpart: fantasy sports. Fantasy sports allow people to participate in a fantasy league depending on the sport where you can draft your favorite players and coaches and play with multiple players throughout the course of the season. Fantasy sports have generated quite some noise throughout the years as it has been heavily praised as a game of both luck and skill as you are going to need both to come out on top of your league.
The first step of playing fantasy sports would be to get a group of people together to join a league. The competitions and stakes rise when you are competing against familiar faces, especially if this becomes a yearly occurrence. The next step would be to enter a fantasy draft where all participating members in the league will have a chance to draft their team, choosing players from the sport they decided to play. This is where the fantasy aspect comes into play as you can have multiple different players from different teams that usually would never get the chance to play with each other on the field or court.
Where the real strategy begins is when the real-life sports league begins. Your fantasy players will start to obtain points weekly as you will be put up head to head against your friends in a statistical matchup that is determined on how well your drafted players do in real life. You are also allowed to trade players throughout the course of the season which puts you in a general manager's position. But, be wary, as a bad trade can effectively ruin your season and roster for the remainder of the year.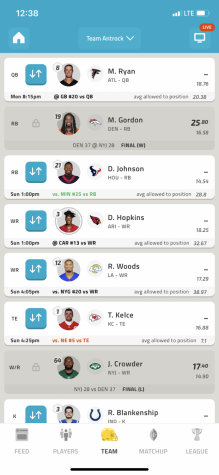 "I love fantasy sports because in a way it makes me feel like I have my own National Football League roster going against my friend's own team. It is also a great way to learn more about each player and their playstyle against certain teams," junior Justin Pujol said.
There are also multiple different aspects to look out for such as free agents, which allows you to drop a player you currently have for someone who is not on anyone else's roster. This can be beneficial as a sneaky pickup because a real-life performance or opportunity boost can enhance your team. This is why it is also important to keep up with the real-life leagues as the news given throughout the season will be your guidance on choices that you will have to ultimately use your judgment on. Throw in some injuries here and there and lineup speculations with eight to 12 friends and you have a recipe for a highly competitive fantasy sports league.
"Fantasy sports is really awesome, it really puts you in the driver's seat of your own team that you have to manage against other players. You have to know what you are doing at all times to have a chance and I really enjoy that competitiveness," junior Pablo Velazquez said.
Now, although we are already four weeks deep into the Football season, this year and both Baseball and Basketball are reaching their latter-half of their respective seasons. It is not too late to get into fantasy sports, or merely just developing interest in it for next season because the worst thing you can possibly do heading into a new fantasy sports season is to be uninformed. Fantasy sports is a great hobby for all sports fans and even if sports are not your favorite pastime, it is still an enjoyable experience that includes learning, competition and rivalry, you will not be disappointed.