Kickstarting the New Season: Cavalier Football is Fired Up in 2019
The Cavalier Football team at Coral Gables Senior High is composed of hard-working student-athletes who are known for thriving on and off the field, and this vibrant group of young men represents Gables in the best way possible. The Cavs have been practicing rigorously over the summer and they continue to strive for greatness every day after school, pushing themselves to new limits by strenuously working on each of their positions and conditioning every day.
The varsity team played a preseason game against Miami Killian Senior High School right before the fall football season started, and the Cavs put an immense amount of effort to prevent Killian from gaining an advantage over them in their first game back in action. The game ultimately ended in a tie, with each team scoring 20 points. However, this game was an exhibition of what the Cavaliers are capable of doing on the field throughout the season.
The fall football season has since started and, sadly, it has not been a walk in the park, as the Cavaliers have won just one game out of their first three.
The Cavaliers faced Gulliver Prep on Aug. 23, losing 27-6. A week later, they faced off against Apopka High School and lost 27-12 in an improved effort. 
Despite the fact that they have suffered some brutal defeats recently, they are still giving it their one-hundred percent effort, making sure that they improve this season and show how well they can dominate the field. 
"The team is a work in progress. In all reality, hard work pays off and you can not get what you wish for. You work hard for what you want. When they practice like champions Monday through Thursday, then the Friday games will take care of themselves," coach Aaron Miller said.
Our varsity team competed against Miami Southridge Senior High School on Sep. 6 and came out victorious. The Cavaliers won 20-14 against the Spartans, displaying tremendous heart on the field. The team is very pleased with the win, seeing how their hard work is paying off.
Despite their losses, they are not easily discouraged and insist that they will continue practicing until they persevere. 
"Although we have not had the greatest start, I believe we are going to finish strong. We should voluntarily try to harness the potential we have. We should also try to improve our mindsets by believing in ourselves, remembering why we play the game and focusing on our craft," senior Joshua Dalmond said.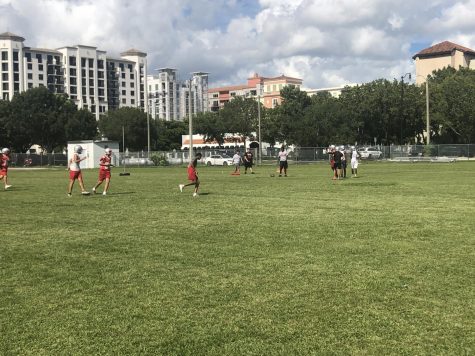 Although the junior varsity team has not had the chance to face off in a game yet, they practice routinely and push themselves to try and beat every obstacle that comes their way.
"This season is going to be a tough one, but we're going to succeed. When we started off, we were all doing our own thing since everyone was new to the team. Lately, we have started to play like a unit. We can improve by taking our roles more seriously, paying more attention and pushing ourselves harder during practice," sophomore Darren McQueen said. 
Our Cavalier Football team is determined to show everyone what they can genuinely do this season and these players are working intensely to continue to strengthen their skill sets and become more knowledgeable in order to flourish in every game. Every player is doing their part to improve.
Striving for greatness, these passionate players continue to run out onto the field with optimism. Even if it is not easy, you better believe that they will keep their heads up and exude their Cavalier pride.
Leave a Comment
Your donation will support the student journalists of Coral Gables Senior High School. Your contribution will help us cover our annual website hosting costs.
About the Contributor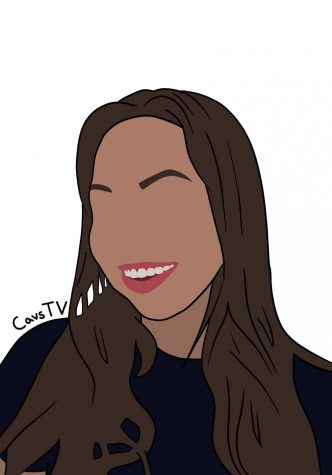 Stephanie Andrade, CavsTV Staff
Stephanie Andrade is a junior in the International Baccalaureate program at Coral Gables Senior High. This year she is joining CavsTV with an open mind...