A Rivalry Served Right: Djokovic Bests Federer in Cincinnati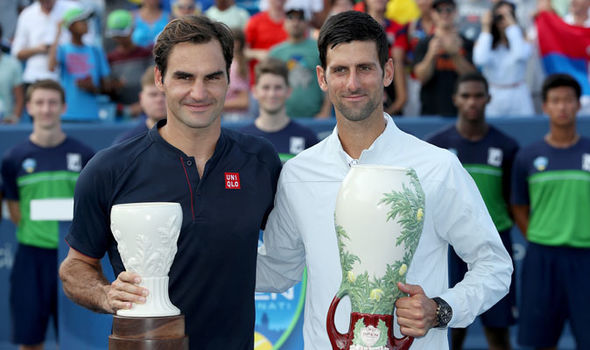 As he tossed his racket and sweatbands into the stands of eager fans, a tennis superstar emerged victoriously and took center court to claim his well-deserved trophy, the Rockwood Cup. While those attending the event and watching it at home chanted with joyful voices, a player sealed his destiny as one of the most successful tennis players in history.
Out on the court, it was a truly hard-fought battle as two of the all-time greats collided in a championship for it all. While Roger Federer, with his powerful serve and nearly unmatched precision, fought hard, Novak Djokovic bested him with his relentless returning and masterful performance.
"The outcome of the match surprised a lot of people, seeing as how the odds were not in Djokovic's favor, yet he was still able to seal a victory. Djokovic's victory will also keep Federer under close scrutiny as the US Open approaches," senior Gabriela Villa said.
In the instance of a major upset, especially when two greats are involved, people from all around the world take notice. In this case, world-renowned tennis icon, Roger Federer, was upset in the finals of the Cincinnati Masters tournament on Aug. 19 by Novak Djokovic, also a world-class champion, under a sunny sky and perfect conditions for a tennis match. The grueling event ended as 10th seed Djokovic routed Federer, winning 6-4 and 6-4. With his victory in the tournament, Djokovic further boosted his ranking and has become the favorite in the upcoming U.S. Open. This win was even more significant due to the fact that, aside from it being Novak Djokovic's first Cincinnati Masters title, it completed his run to become the first person in history to win all nine of the Association of Tennis Professionals Masters 1000 tournaments, otherwise known as the Career Golden Masters.
"I think that Djokovic beating Federer was a telling outcome of where both of the players are in the year right now. Federer struggled a little throughout the tournament, while the opposite is true for Djokovic. The win in Cincinnati is big for him going into the U.S. Open, as it puts him up there as one of the favorites," senior Dylan Carol said.
In their long history together, they have faced each other a total of 46 times, beginning in 2006 during the Monte-Carlos Masters event. Although Federer emerged triumphant following their first encounter at a major tournament and won the next three as well, Djokovic went on to win during their first meet at the Canadian Open and has won many more after that. Today Djokovic holds Federer to a 24-22 record, yet this will likely change as the two are bound to meet sometime in the future as their exceptional talent brings them head to head.
As both men strive for greatness and move forward in their careers, one can only imagine how much more they'll accomplish on the court, and what great feats they'll overcome in the future. Sure to meet in matches further down the road, it will be exciting to see what will come from this legendary rivalry.