Athlete of the Week: Desnee Johnson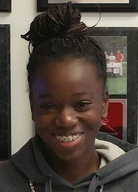 This week's athlete of the week is junior Desnee Johnson. Johnson threw three touchdown passes leading to a 21-6 victory against Braddock and finished the regular season with a 7-0 undefeated streak.
To learn more about Johnson and all her prior success click here.
Don't forget to wish your fellow Cavalier good luck and good job!