Athletes of the Week: Natalie Regalado, Victoria Garcia, Aliana Bonilla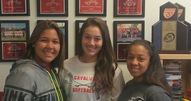 Senior Victoria Garcia and junior Aliana Bonilla went 2-3 at the plate and junior Natalie Regalado went 3-3 at the plate to help power the Lady Cavaliers softball team over Krop Sr. High 15-9 in the Regional Quarter Finals.
"It felt great to contribute to the momentum of the team since we were all putting the ball in play" said Regalado.
Regalado is a junior in the IB program and has been playing softball since she was about 8 years old. She played in a recreational league from when she was 8 years old to when she was 13 years old. When she was a freshmen, she began fast pitch softball and has been playing ever since. Regalado plays short stop and third base and you can spot her on the field by looking for jersey #9. Additionally, she plays for the Lady Canes travel softball team. Regalado also plays volleyball for the school. She finds that being in IB and playing 2 sports may be difficult at times but in the end the athletics help her with time management.
"I felt great at the game. It was probably my best game all season and I saw my team was there for me so I made sure I did my part and was there for them," Garcia said.
Garcia can be spotted on the field playing first base in jersey #14. Garcia plays softball all year long on both the school and a travel team. Garcia took interest in the game at around the age of 11 and the game has stuck with her ever since. Despite playing softball all year long, Garcia manages to balance her school work with the support of her mother. Garcia plans on attending University of Alabama, but she doesn't plan on continuing her softball career in college.
"At the Regional Quarterfinal I felt like I really contributed to the win both with my hitting and on the field. I was proud of the team for making it this far this year," Bonilla said.
Bonilla started playing fast pitch softball in 2011. The reason for her switch to fast pitch was her competitive urge for more competition. You can find Bonilla playing the position of center-field with jersey #12. Although Bonilla doesn't compete in other sports, she does enjoy spending some of her off time sketching. Bonilla values her education and is able to balance school with athletics through a lot of time management and prioritizing certain assignments over others. Bonilla also continues softball throughout the year by continuing to play competitive softball throughout the summer.
Sadly their season came to an end on Tuesday, April 26, when the team battled American and ended with a score of 10-0. With hard work like this, expectations are great for next year's team. Don't forget to congratulate these hardworking athletes in the halls because they truly deserve it.
About the Contributor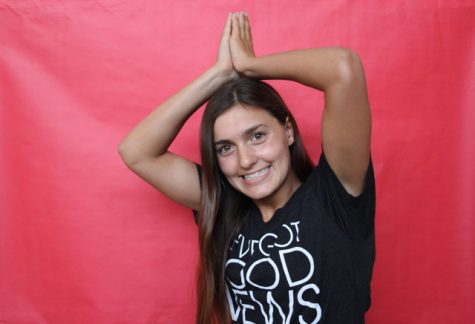 Hannah Cordes, Staff Writer
Hannah Cordes is a sporty IB senior in CavsConnect that loves everything there is to love about Gables. Whether it is dressing up for a pep rally or going...