Athlete of the Week: Gilbert Frierson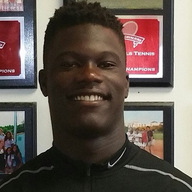 Coral Gables triumphed over the Coral Park Rams on Friday, Oct. 16, and one of the football players to thank is sophomore Gilbert Frierson. Frierson claimed his title as one of Gables's key football players when he returned two punts for touchdowns and helped his team beat Coral Park 42-0 in a landslide victory.
Q: How do you feel about having won Athlete of the Week?
A: It feels great to, you know, be good enough for the game and be recognized. I feel thankful.
Q: You were nominated because of your performance in the game against Coral Park. Can you tell us about your contribution to that?
A: I took back two punt returns. I was cutting back on seconds and so I just did what I had to do.
Q: When did you start playing football, and why?
A: I started since I was four or five years old, and it's just always been in me.
Q: What is your opinion on how the varsity football team has done so far this season?
A: We've been doing good! There is always room to get better, so we're just getting better so we can be great.
Q: How do you feel about the game this Friday against Columbus?
A: Don't come, [he says to Columbus].
Q: Is there anything else you would like to say about having won Athlete of the Week?
A: I just want to say thank you to everybody who's been behind me.
Want to see Gilber Frierson in action? Come see him at the next football game against Southwest on Saturday, Nov. 7 at Tropical Park.