Cavaliers Ace the Falcons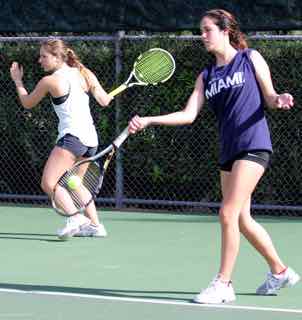 This year's tennis team is on a hot streak. With another win in the bag, the team is on the way to make its way, for another year, to districts.
The girls team was able to keep its winning streak alive, beating Valera 6-1. Many of the players that do not usually play were able to put their skills to the test and show how they have improved. These players were placed in the top 5 and got a chance to showcase their skills. The girls team was able to give a great impression and win over all.
"I think our match against Ferguson went well, considering we have such a young team. Mostly freshmen and sophomores in the top five this season," senior Cyrus Zeledon said.
The boys teams was able to also pull through with a win, beating Valera 4-3. The boys struggled a bit but were able to score the win. In match number two, Ari Alcalay had a very close game. Ending the singles match in a tiebreaker, Alcalay was able to beat his opponent 11-9, leaving the set at 9-8. Cyrus Zeledon, Danny Frulig, and Christopher Tormo, who played doubles, also helped out to get an overall win for the boys team.
"I stepped onto that court against Ferguson, hungry for victory. I stepped off the court victorious, hungry for Chipotle," sophomore Frank De Varona said.
These girls and guys are sure on their way to a great future. The boys team is quickly improving and is sure to have a bright future. The girls team is sure on its way to the road to districts.