Athlete of the Week: Voshon "Bubba" Waiters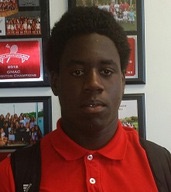 Many people aim for victory, but very few are able to achieve it. This week's Athlete of the Week, junior Voshon "Bubba" Waiters, powered the Cavalier Varsity Football Team through to a 22-12 victory against arch rival Miami High. Waiters both ran and threw two touchdowns during last Friday's game.
Since his childhood, Waiters has always had an interest in football. He became keen on following in his older brother's footsteps and seeing how good he would be at playing himself after seeing his brother play the sport. Noticing this, his father decided to put him in football at the age of 6, and Waiters has loved the sport ever since.
"I used to watch my brother play and I would always ask for his helmet, so my dad put me in football and I've liked it ever since," Waiters said.
Although Waiters played a huge role in the Cavaliers' victory against Miami High this past Friday, he hopes to accomplish much more during the rest of the season. Like every other player on the team, he is hoping to win the state championship this year, and he will do just about anything he can to be victorious.
"I want to win a state championship and just play hard for my team," Waiters said.
Waiters's football dream does not end at Gables, but extends beyond his high school career. He hopes to be successful enough to play college football after he graduates at either one of his two dream schools. He also hopes to accomplish his true dream and play football professionally for the Miami Dolphins.
"I would like to play for UM or Louisville, and I would like to play for the Dolphins so my family members can watch all my games," Waiters said.
Voshon "Bubba" Waiters definitely puts the fear in 'Fear the Cavalier'. Catch him at his next football game on Oct. 30 against Miami Beach High.