Christian Balsera – Dedicated to the Game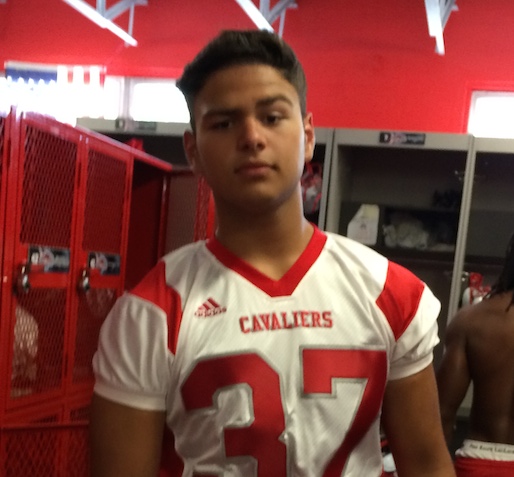 With the school's primary focus on the Varsity football players, it's easy to forget the underdogs. Most players start off in Junior Varsity, where they demonstrate and refine their raw skills. Freshman Christian Balsera is doing just that.
This year is Balsera's first year back in football since getting injured a while back playing for the Pop Warner League. Football has always stood out to him because he enjoys contact sports, which explains his position as defensive line. The game's vigorous regime provides the means for staying in shape, which is important to him. Being a part of such a big team is also a plus, since it helped with his transition into Gables.
"Summer training and overall just playing with the team have helped me meet a lot of new people and made me feel more accustomed to the school," Balsera said.
Like every dedicated player, Balsera hopes to make it into Varsity at the end of the year. Being able to play on the team is an achievement on its own, especially since during his first game he was made captain. Further down the line, the ultimate goal of his is to play for college. He has high expectations for the team and is optimistic on staying undefeated, currently being 4-0.
"The team is pretty well rounded, we're all pretty close… I think it'll be a good group to go on with later," Balsera said.
Leaving practice at six everyday makes the struggle of keeping up with school work even harder. Balsera has managed to get use to the hecticness of not only high school, but also balancing Pre-IB classes.
Outside of his football filled world, Balsera enjoys having a nonchalant life. Like every other guy, he dedicates time to hanging out with friends and working out on his own at the gym. His love for sports doesn't stop with football. He also looks forward to joining the school's track team later this year.
As a developing football player, Balsera has lots yet to accomplish in Gables. With players as dedicated as him, the JV football team deserves more recognition. Keep an eye out for number 37 on the field because he's sure to go far!