Ain't Yo' Mama's Review: The Madea Series
Release Date: 2005-2017
Director: Tyler Perry
Starring: Tyler Perry (Madea, Joe, Brian), David Mann (Leroy Brown), Cicely Tyson (Aunt Myrtle), Tamela Jean Mann (Cora Simmons)
MPAA Rating: PG-13
Our Rating: B
Tyler Perry is among Hollywood's most successful celebrities. Not only has he proven his talents as a director, but also as a producer and actor. The greatest testament to this would be his widely popular "Madea" series, in which he masterfully executes all three roles to create a truly spectacular set of movies.
The series, composed of over ten movies, all share common threads. For one, Mabel Simmons, otherwise known as Madea (portrayed by Tyler Perry), plays a pivotal role in the development of each movie. She is seen as the matriarch from which the other characters, such as Cora Simmons (played by Tamela Jean Mann), look to for counsel in their lives. This counsel comes in the form of witty, sarcastic and downright vulgar humor. The majority of the characters in the series are related to Madea—Cora Simmons is her daughter and Joe Simmons (Uncle Joe) is her brother. Surprisingly enough, Tyler Perry artfully plays all of these characters. Despite the humor, the plot of the movies can be remarkably complex: intertwining social commentary relating to the black community, such as single motherhood and organized crime. The series' second movie, "Diary of a Mad Black Woman," is an excellent example of this. In the movie, Madea's niece, Helen Simmons (played by Kimberly Elise), is trapped in a one sided marriage with an abusive husband. Helen, who is terribly distraught, seeks Madea for counsel. In one of the most inspiring scenes in contemporary cinema, Madea shares some truly moving and enlightening words of wisdom, "I would've beat him down a long time ago." Spoken like a true poet.
"These movies are one of my favorites. I never get tired of seeing them; they never fail to put me in a good mood," senior Jose Gonzalez said
However, the stories can often tiptoe on the side of corny, and the humor can get redundant at times with very little variation in the subject matter of the jokes. One of the more recent movies, "Madea Goes to Jail," is a perfect example of how some of Perry's humor hurts the film as a whole. The entire time at the jail, Madea's humor was almost entirely dependent on one cellmate. Moreover, this humor almost entirely consisted of a barrage of obscenities with essentially no deeper message. There are multiple examples of these kinds of dialogues in almost every movie, which undercuts the overall quality of the movies.
"Madea is the most dominant character in the movie by far, but I feel as though she overshadows the development of certain characters,"  junior Aisel Galvez said
The fame that Tyler Perry has received for the movies is well deserved, as the movies are unlike any other in Hollywood in subject matter and techniques used. Despite certain flaws, they remain all around great movies.
Leave a Comment
Your donation will support the student journalists of Coral Gables Senior High School. Your contribution will help us cover our annual website hosting costs.
About the Contributor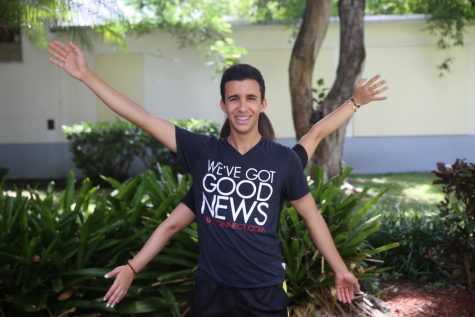 Pablo Hanono, Staff Writer
Pablo Hanono is a senior in the International Baccalaureate (IB) program at Coral Gables Senior High School. This is Pablo's second year in CavsConnect,...