Got Lunch?
Lunch is that precious thirty-minute period of time where we, as students, can unwind and enjoy our food after a long morning of class. The food is often is our main focus, we're excited to delve into daily delectables. But not much thought is given to where we eat our lunch. Whether it be inside or outside, our school has a multitude of different places where students can savor their free time and food.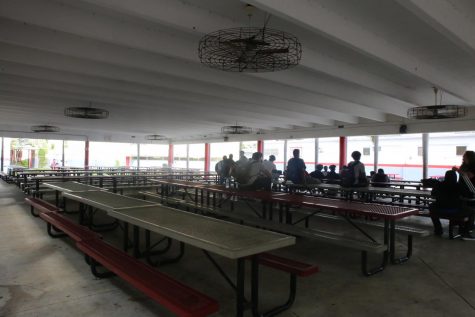 Pavilion: The Pavilion, also known as "The Pav," is a large covered eating space between the Ralph Moore building and the older wing of the school. It has several rows of tables and two vending machines, with drinks and snacks respectively. In addition, a quasi-lunch line is set up daily in the Pavillion, eliminating the need to go to the lunch window or either of the cafeterias.
"I love eating in the Pavillion, I've been eating there since 9th grade. The fresh air while being in the shade are the highlights of my school days," junior Tim Lamb Van-Wyk said.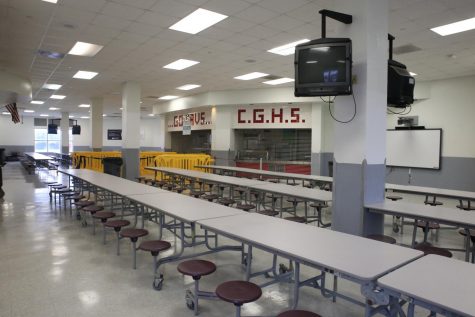 Diner 7: Diner 7, commonly referred to as the "new caf" is located on the first floor of the Ralph Moore building. It is the smaller of the two cafeterias but has a large wrap around lunch counter with two lines that serve lunch. This allows for a more streamlined purchase of food, allowing you to enjoy your lunch faster. Apart from the standard lunch tables, the New Caf has individual booths that can sit up to four people, a feature unique to it. The cleanliness and smaller size along with its functional lunch line make it a favorite amongst students.
Café 9: The oldest and largest of all the eating spaces in the school, Cafe 9 is a great spot for many students to eat. During lunch, Cafe 9 is a frenetic mix of all different kinds of students. The lunch line and flow of students are more concentrated than that of the New Cafeteria, creating long lines. However, its enormous size means you won't have to be as worried about finding a place to sit. It is also centrally located at the intersection of two major hallways that traverse the school north to south; which gives you a little bit more time to eat and walk to class in less of a rush.
"The constant buzz is a refreshing change from the structured classroom environment we are in most of the day. I could easily run into 30 people I know just by eating in the Old Cafeteria" senior Mary Vega said.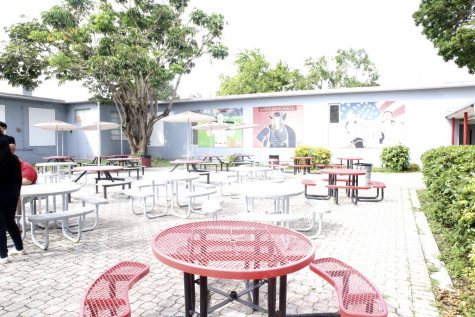 Alumni Patio: Situated right next to Cafe 9, the Alumni Patio is a small open-air space where students can eat. The seating is composed of smaller group tables that seat up to 6 while under the shade of an umbrella. As with the Old Cafeteria, it is centrally located but does not have its own lunch line meaning that students wishing to purchase lunch must go into the Old Cafeteria. The Patio is under the backdrop of a beautiful mural showcasing different aspects of Gables, including our mascot.
Regardless of where you decide to eat that sandwich your mother painstakingly made for you, there is a place for every student to enjoy their freedom and food depending on their individual wants and priorities.
Your donation will support the student journalists of Coral Gables Senior High School. Your contribution will help us cover our annual website hosting costs.
About the Contributors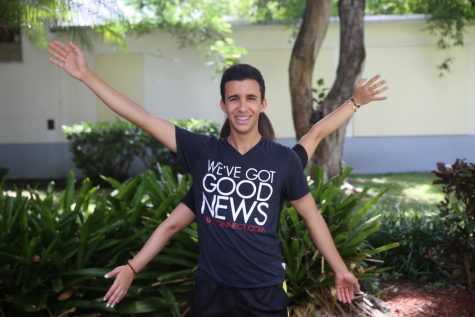 Pablo Hanono, Staff Writer
Pablo Hanono is a senior in the International Baccalaureate (IB) program at Coral Gables Senior High School. This is Pablo's second year in CavsConnect,...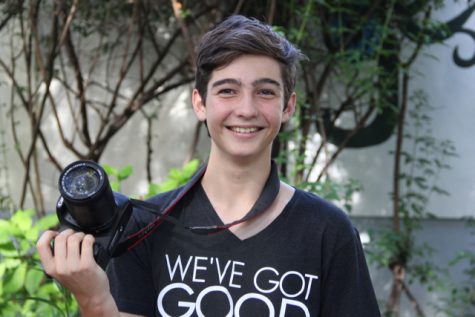 August Field, Photographer
August "Augie" Field is a sophomore in the International Baccalaureate (IB) program at Coral Gables Senior High. Augie grew up in Miami and attended Coral...