Should Teachers Have a Say in the Reopening of Schools?
With summer coming to an end and the 2020-2021 school year beginning, states are scrambling to determine whether it is safe to reopen campuses in person. Unfortunately, in many of these states, governmental officials with the backing of the president are pressuring school districts to reopen, as they believe the global pandemic has become a non-issue. Since the end of February, Coronavirus has affected millions of Americans with multiple states seeing an exponential rise in cases. The student's well-being is everyone's top priority and rightly so; however, many officials have failed to consider the health and careers of teachers who have been forcefully placed in difficult circumstances. Teachers must be considered in decision making in regards to the reopening of schools because they are putting their lives on the line and many cannot afford to lose their source of income to put their health first if school districts cannot make the safer decision.
Teachers are vital for the progression of our society. Not only are they crucial to helping provide education to the youth, but they serve as role models and inspiration to many. From in and out of the classroom, teachers hold a very special place in many student's lives as many see a classroom as more than just a room to take exams but as a safe haven. More than ever, kids are going to look to teachers for guidance to help make sense of this suddenly upside-down world. Therefore, it is crucial to be aware of all possible effects in order to help preserve and maintain the health of both teachers and students going forward. It is absurd that many elected officials have not considered the effects teachers can experience if they are forced to go back to school with many irresponsible children.
To further understand how many teachers are being kept out of decision making, one of many districts in Georgia has continuously changed their decision in terms of virtual learning with no option for teachers to opt out for their safety. As many teachers were preparing curriculum to be taught online they were shocked to learn that come August 26th, schools were fully reopening in their county. At the moment, 260 district employees have tested positive for this virus, with many having serious health conditions such as asthma. Many officials have attempted to reassure teachers that proper measurements will be taken such as plexi-glass tables, hand-sanitizer dispensers and social distancing. However, with the little information available about this virus, it seems that a COVID-19 outbreak in schools is inevitable if teachers and students are forced to return.
"I have a friend who teaches in Georgia and she is mandated to teach face to face, she has two young children and one of them suffers from Asthma. She doesn't want to teach face to face but she needs a paycheck.We are seeing a high level of teachers retire to avoid putting themselves in harms way. We will also have issues finding substitutes once we go back to work because a lot of our substitutes are elderly and the pay is not worth the risk. I think anyone studying education is committed to the students and just wants to make a difference, therefore if they have no health issues will put themselves in harms way. Every teacher has their own personal circumstances allowing or prohibiting them from teaching face to face. I personally respect that and I am glad Miami-Dade County Schools is giving us a choice," AP Psychology teacher Mrs. Noval said.
Although teachers are important for the positive development of children, prior to COVID-19 many states were already suffering from teacher shortages because they were severely underpaid and lacked access to many necessary benefits. This unpredictable pandemic has furthered this problem because as the new school year approaches, many are terrified to go back to school unless there is a sharp decrease in cases, even if that means they'll lose their job.
Florida is one of multiple states where the governor and other officials have encouraged the reopening of schools to maximum capacity with one of their main arguments being that younger people have a stronger immunity to Covid-19. This statement is completely false as children are susceptible to contracting the virus and can be super spreaders. Florida, alongside Texas and California, is one of few states where more than 5,000 cases are reported daily.
As Governor DeSantis continues to mandate school reopenings across the state, some school districts have refused. Alberto Carvalho, superintendent of Miami-Dade County Public Schools, has remained adamant about the importance of ensuring the safety of both faculty and students. So, a collective decision was made that no in-person learning will occur until October 5th where they will reevaluate the current situation. This decision rightfully prioritizes the health of students and teachers over learning in-person.
"I miss being physically in the classroom. I think personal connection aids in the learning process, and some personal connection is lost through the virtual world. However, that being said, I do believe the safest route for students and staff right now is distance learning. This may not be or seem ideal, but we can certainly do it. Fortunately, I was able to choose to be online only and the union protects me as a public school teacher. I'm happy my school gave me the option to be virtual because some schools are irresponsibly having their teachers go in without concern for their health," IB Chemistry teacher Mrs. Kiely said.
As the first day of school grows closer, school districts are rushing into decisions that put the lives of teachers, faculty and students at risk. Due to the lack of sufficient governing many teachers are at risk of either becoming unemployed or testing positive for the virus, putting themselves and their families in harm's way. From being forced to write their wills to transferring months worth of curriculum online, our nation's teachers deserve better than this. Teachers need to have a say in the argument on reopening of schools because these politicians are not the one being placed in these classrooms with children that can be carriers of this life threatening virus. It is time to stand alongside our teachers and help ensure they will remain safe while teaching our children.
About the Writer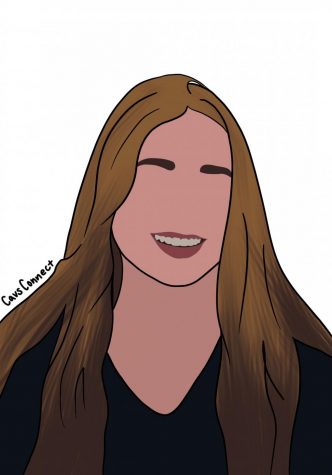 Lauren Gregorio, CavsConnect Opinion Editor
Lauren Gregorio is a junior in the International Baccalaureate (IB) program. This year she'll be serving as co-president of Gables Earth, Model United...