On the Basis of Sex: the Legal Fight for Equality
Release Date: December 25, 2018
Director: Miriam Leder
Starring: Felicity Jones (Ruth Badger Ginsburg), Armie Hammer (Martin D. Ginsburg), Cailee Spaeny (Jane Ginsburg), Kathy Bates (Dorothy Kenyon), Justin Theroux (Mel Wulf)
MPAA Rating: PG-13
Our Rating: A++++
"On the Basis of Sex" is the story of the current Supreme Court Justice Ruth Bader Ginsburg's young adult life and her early career. The movie begins during her first years at Harvard Law School. Although she is one of the only women who is attending, Ginsburg thrives and remains at the top of her class throughout the entirety of her time at law school, even after she leaves Harvard and finishes her courses at Columbia University. At first, Ginsburg struggled to find work as a lawyer because she was a woman and eventually, she gave up and decided to become a law professor. A few years later, Ginsburg finds out about a case that could become a huge step in the fight for equality between men and women. She does everything in her power to take on the case and surpasses all of the barriers that society placed in front of her.
"
I loved the movie, I feel that it is important for everyone to see especially girls because it carries an extremely important message that needs to be shared. The case discussed was super important and is basically the basis of women in today's society. If she lost that case, who knows if women would have ever reached the place in society they are in today.
— freshman Sabrina Bonavita
The actors in this movie, especially Felicity Jones who plays Ruth Badger Ginsburg, perfectly exemplified the passion and perseverance that makes Ruth Bader Ginsburg so admirable. Although this movie seems like it would be dull, the directors and writers manage to entertain the audience with Ginsburg's first major court case and the story of her relationship with her husband who faced many hardships in his young adult life. "On the Basis of Sex" is based on real events and opens viewer's eyes to the blatant discrimination and inequality that existed not too long ago. The cinematography is not particularly outstanding but the story itself is enough to get you attached to the characters. The movie even featured a cameo of Ruth Badger Ginsburg herself.
"I like Ruth Bader Ginsburg because I think she's the perfect representation of feminism. She never once gave up her dream of equality and still continues to fight despite her age and health problems. I think her fight as a lawyer and a justice in a male-dominated field is very important because, without her, women most likely wouldn't have the rights that we have today. Although there still is progress to make, her work has pushed women so much closer to their goal," sophomore Alexandra Torres said.
"On the Basis of Sex" is extremely impactful for me since it allowed me to see how far America has come in terms of equality in such a short amount of time. This could not have been possible without the help of powerhouses like "RBG" who took all of their time and energy to pave the future for women. Movies and books about history are extremely helpful in spreading open-mindedness across the globe and preventing the repetition of mistakes we made in the past from reoccurring. This movie is no different and further proves why we cannot stop standing up for our moral principles; needless to say, I love this movie. Its message was powerful and the storyline makes you want to stand up for what you believe in.
Leave a Comment
Your donation will support the student journalists of Coral Gables Senior High School. Your contribution will help us cover our annual website hosting costs.
About the Contributor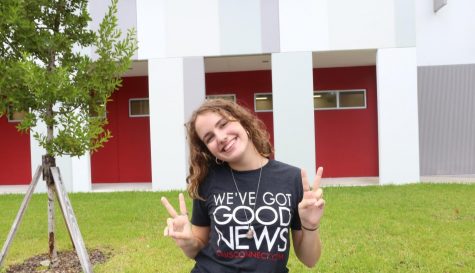 Maia Berthier, Co-Editor-In-Chief
Maïa Berthier is a senior in the International Baccalaureate program at Coral Gables Senior High. This is her fourth year in CavsConnect and second year...