Putin's New Puppet
Hang on for a minute...we're trying to find some more stories you might like.
Russian aggression towards their former satellite nations and complete disregard for international law has reached a climax with the newest conflict in the Kerch Strait. Russian naval vessels opened fire on three Ukrainian ships off the coast of Crimea, injuring three to six crew members. The seizure of these ships reinforces Russia's claim of full control over the recently annexed Crimea. Ukrainian leaders have expressed outrage over the attack, citing clear violations of past treaties that established free trade in the Black Sea. This conflict has brought Eastern Europe into the forefront of unstable regions in the world, possibly surpassing the Middle East, solely because of the inherent danger posed by an expansionist nuclear power with little regard for international law. Putin's ability to take control of Russia's former satellites with little intervention from the outside world shows just how much respect he commands from adversarial powers, especially U.S. President Donald Trump. One of Trump's many promises early in his presidency and during his campaign was to improve relations with Russia, and it seems that avoiding all conflict is the White House's favorite way to achieve a new friendship.
Leaders from most of the world powers have been quick to express their disdain over Putin's action, and the UN Security Council was especially quick in convening an emergency meeting to discuss the matter. However, an agreement could not be reached on a Russian-proposed agenda. Missing from these emphatic denunciations is the supposed leader of the free world: Donald Trump. While he has expressed concern over the situation in the Black Sea, President Trump has assigned no blame in the matter. A simple condemnation of Putin's clearly illegal actions would set the rest of the Western world at ease, and inspire some sort of fear of reprimand within Russia's Kremlin. But President Trump has taken his favorite course of action and avoided definite comment on crises he did not create or embrace. Combine that with his strange refusal to challenge Putin, and a dangerous cocktail of appeasement and isolation dominates America's foreign policy toward Russia. This very same policy can be seen in Trump's handling of Russian intervention in the 2016 presidential election. Despite overwhelming evidence to the contrary, Trump maintains that Russia had minimal impact on the election.
"Trump has refused to take a stand against Putin and it makes the U.S. lose credibility within the international community," senior Nicolas Cercone said.
Eerily relevant parallels can be drawn between the actions of, and reactions to, Russian aggression and expansion in Eastern Europe and pre-World War II expansions by Nazi Germany and Mussolini's Italy. While Putin may not share the disgusting ideology that characterized Hitler's fascist state, his disregard for international law and the sovereignty of other nations rivals that of the German chancellor and Italian dictator. Many historians agree that Western appeasement was the primary cause for World War II, and while the West's appeasement towards Russia does not carry the same threat of global war, it does promote further violence in Eastern Europe. In the very same way that the League of Nations issued many empty statements of reprimand following Italy's invasion of Ethiopia and Germany's forced annexation of Austria, the United Nations, especially the United States, has failed to take any action against Russia's aggression towards Ukraine in recent weeks.
"
Russia's actions are concerning and pose a danger to peace in Europe, and organizations like the UN need to take action."
— junior Charlie Sommer
America's new policy of allowing Putin to have free reign in Eastern Europe as long as he continues to say the right things and supply the U.S. with the right resources has turned the leader of the free world into a source of legitimization for blatantly illegal expansion. President Trump prides himself on his relationship with Russia and Putin, and it is now evident that this relationship is more beneficial to Russia's expansionist policies than to America's former role as the policeman of the world. While it may be an exaggeration to say that Putin has created a satellite state in the leading economic and military nation in history, it may not seem too far fetched to credit him with having a significant role in shaping the foreign policy of President Trump.
About the Contributors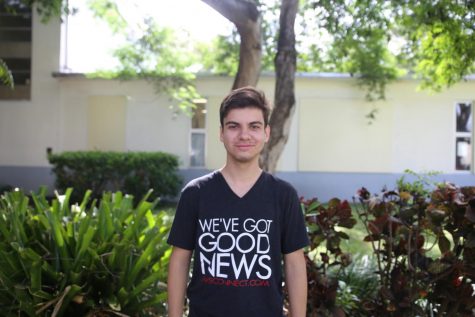 Patrick Ales, Staff Writer
Patrick Ales is a senior in the International Baccalaureate (IB) program at Coral Gables Senior High School. This is his first year in CavsConnect and...