With high kicks, big smiles and loud cheers, the Gablettes hosted their annual Fall Frolics showcase. On Thursday, Oct. 26, Coral Gables Senior High students, families and friends gathered in the auditorium to support the dance team and enjoy featured performances. As an annual show, Fall Frolics featured guest dancers, including the mini Gablettes and dance electives that wowed the crowd as they took on the stage. Curtains opened at 7 p.m., and the show continued until 8:30 p.m., an unforgettable performance that will be remembered by all.
Throughout the week of the show, eager Cavaliers were able to purchase presale tickets from Gablettes, sold for $10 or $15 if bought at the door. Before the start of the show, supporters queued outside the auditorium, eagerly waiting for the performance to begin. The crowd was filled with excitement and anticipation as they awaited the annual performance they knew had been prepared with much effort.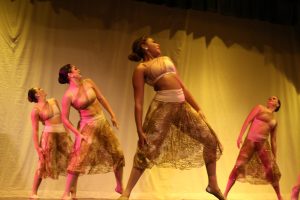 "Fall Frolics is the first show for the school year, for the Gablettes, so it's very exciting, it's the opening of the Gablette season and everyone gets to meet all of us. As a senior and captain it was my favorite memory since I got my senior jacket," captain and senior Brittneysue Villa said.
Once students and family members took their seats, Act 1 commenced. The performance began with a rendition of "You Should Be Dancing" by the Gablettes. The group consisted of several seniors and a jazz choreography full of energy, joy and smiles. Throughout the rest of the act, the dancers brought on various dance styles, including contemporary, hip-hop and kick. For every performance, the stage was lit with lights to match each choreography as well as the music. The dancers accompanied their piece with synchronization and sharp moves.
Wearing only black and white, the dance electives presented hip-hop choreographies. Their piece included upbeat rap music and well-known dance moves to equal the beats they followed. Then, the Mini Gablettes entered the scene with their execution of "Your Favorite Show". With their dances, they celebrated Throwback Thursday and included a selection of theme songs from popular 2000s Disney Channel shows, bringing back fond childhood memories for Cavaliers.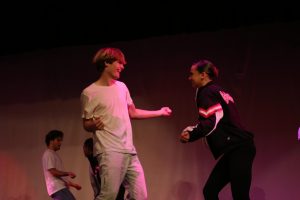 Once Act 1 came to a close, there was a ten-minute intermission where the audience exited the auditorium, mingled with other viewers and purchased snacks, candy and water. After intermission passed, the spectators gathered back into the auditorium for Act 2 of the show.
The performances continued, keeping up the same energy. Opening with an upbeat hip hop choreography to "Skrilla", the Gablettes popped out in white clothes and ended with their iconic checkers. The final performance, a dance to "Sky Full of Stars" was a jazz choreography with big smiles and a closing burst of energy to end their show on a good note.
As the curtains closed after the final dance by the Gablettes, all the performers took the stage for a final bow. The senior Gablettes' sweethearts, who act as their dance partners in the "Sweethearts" choreography, handed them their senior jackets, which represented their final year as high school dancers. For years throughout Gables' history, the Gablettes have been supported by all, and this was especially true on Thursday night.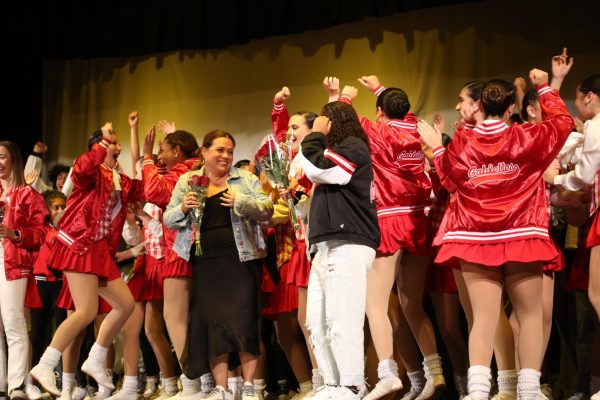 "I really enjoyed the show, it was full of good songs and dances. Each dance had me and my friends stunned in the best way possible. From the minis to our own Gablettes, all the performances had me excited for the next," sophomore Scarlett Estrada said.
For such a show, all of the dancers had to pour in hours of practice and dedication. The Gablettes began preparing for Fall Frolics during their intensive summer week, from Aug. 7 to Aug. 14. During practice sessions, the team of dancers typically spent five to six hours each day, warming up with a full-body stretch before moving on to rehearsing and refining their choreographies. Occasionally, they trained with guest coaches and other dancers, who taught them new dance styles, choreographies and techniques.
"I've been doing this for years, so I try not to put too many styles back to back, I try to change it up, I try to give people time to dress out and I just try to keep it as entertaining and smooth running as possible," Gablette coach Erika Diaz said.
In order to put on a perfect show, Mrs. Diaz made sure to tidy up the choreography through check-ins and routine inspections. She verified the music before starting the choreographing process, and once done, she prepared costumes for each and organized the order of the dances. Once the choreographies were in development, senior and captain Brittneysue Villa made sure all the dances were completely understood and executed correctly.
"Honestly, the show was smooth and it felt like I was watching a professional performance that I paid more than 10 dollars for. It was very organized and enjoyable," sophomore Scarlett Estrada said. 
Dance Styles Put On Stage At Fall Frolics
Contemporary

Contemporary dance was developed during the 20th century and includes a mix of ballet, modern dance and jazz. Contemporary is a style of dance filled with emotion and includes lots of facial expressions.

Hip-Hop

Hip-hop is a style of dance influenced by a wide range of street dance styles that were discovered in the 1970s. Hip-hop choreographies are paired with upbeat hip-hop and rap music.

Jazz

Jazz is a style of dance that combines African and European dance styles. This dance is full of energy and sass, and is accompanied up-beat music and movement in the hips.