Trump UN General Assembly Address Met With Criticism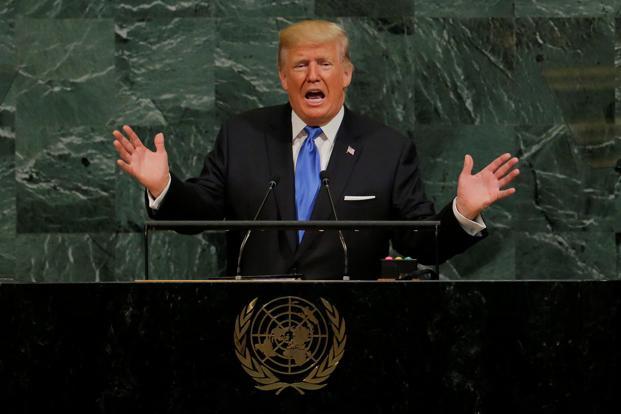 Daniela Parra del Reigo, Staff Writer
September 27, 2018
The 73rd annual United Nations General Assembly (UNGA) session began on Sept. 18 and was presided by Maria Fernanda Espinoza Garcés of Ecuador. It was in this conference that Donald Trump made his annual speech to the ambassadors which has received international attention.
"
As the president of the Model United Nations club, I was displeased by Trump's lack of diplomacy in a the UN, as diplomacy is a core value in international relations. "
— Senior Cristian Ochoa
Filled with his usual confidence, President Donald Trump took the floor of the GA at 10:04 a.m. EDT on Sept. 26. His speech has been received with mixed opinions due to the very strong ideas he presented.
"We do not seek to impose our way of life on anyone," Trump said in his speech, which contradicted his open criticism of the Iranian government, North Korea's "Rocket Man" Kim Jong Un and Venezuelan officials. Trump's adoration for the United States government showed through- for better or for worse. "America is governed by Americans. We reject the ideology of globalism, and we embrace the doctrine of patriotism," Trump stated.
One of the main ideas of his speech was placing each individual country's interest above international interest, which was faced with much criticism as this speech was given at an assembly meant to encourage cooperation.
"I believe a president should be respectable and humble, but Trump is basically just the comic relief of the room. His speech was full of boasts, which made the U.S. look bad. If he was not already pulling out of trade deals, countries would stop working with us because of Trump's lack of diplomacy," junior Daniella Berrospi said.
Although many people did not listen to the full half-hour speech, news outlets recapped the speech to keep viewers informed on how their nation is being portrayed abroad. One snippet showed Donald Trump claiming that his "administration has accomplished more than almost any administration in the history of our country," followed by laughter coming from all members present. Some took this as a sign of friendship and relaxation while others considered this a violation of the professional level that should be maintained in the UN. Later in a press conference, Trump stated that they were not laughing at him, but with him.
As possibly one of the most controversial presidents in U.S. history, he has a way to go before winning public praise. Many presidents and leaders spoke at the 73rd session of UNGA, but the international attention he has received is unparalleled.