Farewell to the "Senior Square"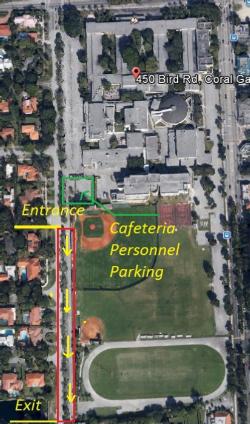 Traffic before and after school at Gables is notoriously bad. Cars are lined up bumper to bumper due to parents and students rushing to get in on time in the morning and to leave as soon as possible in the afternoon. Recently, changes were made to the Riviera parking lot (also known as the student parking lot). Riviera is also the street that parents are supposed to drop their children off at, which would cause traffic to slow due to the constant stopping of vehicles.
The above picture, obtained from the CGHS website, accurately shows how the parking lot was changed. According to the school's website, "Students will still have access to park their vehicles in the location. The only difference will be that they will enter and exit this small section in the opposite direction." It seems that this new change will help alleviate traffic near the school, but it also makes our seniorss beloved "Senior Square" the "Cafeteria Personnel Square."
The Senior Square was one of the many perks of being a senior and had been for quite sometime now. This new change is heartbreaking for our current seniors, who have been waiting for so long to finally be able to park there.
"It's understandable that cafeteria workers need additional parking. I believe it was unfair to make their parking what used to be Senior Square. I was excited to park in what was known to my peers and I as the senior square [. . .] but now finding a parking spot won't be so easy,"  senior Karissa Zuriarrian said.
It may seem unjust that this year's seniors and future seniors will not be able to use the coveted space. However, this new change will ultimately be for the better, as traffic will be less congested, leading to fewer car accidents involving students going to school.