On January 27, 2013 thousands of people participated in the ING Miami Marathon and Half Marathon. They gathered no later than 5:55 AM at the runners corrals next to the American Airlines Arena. In total the participants who ran the marathon completed 26.2 miles and those who ran the Half Marathon completed 13.1.
Once the marathon began, participants ran from the arena to the Mac Arthur Causeway, past the cruise ships which docked at the Port of Miami, to South Beach. However, it didn't stop there. Runners continued down Ocean Drive through the City of Miami Beach and then down the Venetian Causeway until back at the City of Miami. This marked the ending of the Half Marathon.
Competitors who went on to complete the full marathon kept running past the City of Miami to Brickell, Coconut Grove, through the Rickenbacker Causeway toward Key Biscayne and finally stopped at Bayfront Park– or they should have.
For some race participants, Sunday's full marathon was cut short when volunteers misdirected some of the marathon runners, causing them to end up in the half marathon finish chute rather than continuing on the full marathon course.
Palm Beach County resident Helen Betances-Foster (mother of CavsConnect adviser, Camile Betances) was one such participant, who was with a group of about 15 people who were guided in the wrong direction. She said, "There was the first split for the marathon and half marathon, and then about a minute later another volunteer said, 'full marathoners this way' and so we all followed what she said and turned."
"It is so sad. My mom trained for over 10 months for the New York marathon after finally getting into the lottery for the race. Then it was cancelled due to the horrible effects of Hurricane Sandy. She registered for the Miami Marathon so all her hard work would not go to waste, but race officials stole that opportunity from her," Camile Betances said.
Betances-Foster and the group tried to get back onto the marathon course once they realized the mistake, running over a mile back to where the course continued, but according to her, race officials refused to let them continue on the course. She stated that they said it was closed and that their opportunity to complete the race was over due to time constraints. "A man laughed at me and said, 'The course is closed. The only thing you can do is finish the half,'" Helen Betances-Foster said.
"My family and I were waiting for her at mile 14 when she called. All I could hear was crying. Last year the two of us did the half marathon together and we were stripped of our bibs at mile 11 and our finish was never recorded because officials claimed we were behind pace, even though we were WELL within the "supposed" 4 hour time limit. We finished, but it was the most horrible experience. They didn't even have medals for us. The Miami Marathon claims to have certain time limits, but those are a complete lie. They start taking down the course at the time based on when the first runner crosses the start, not when the last runner does, which is usually almost an hour later," Betances continued.
As a result of last year's experience, Betances and Betances-Foster contacted Frankie Ruiz and Dave Scott [Miami Marathon Race Officials for US Road Sports] who blamed the volunteers and said they never told them to do anything to the runners.
"About 3 months later, they eventually sent us our medals, bibs, and recorded our finish time. They gave us free entry into this year's race, but the experience ruined the Miami Marathon for me. I vowed to never do it again. My mother only did it because she wanted her months of training and sacrifice to count after New York was cancelled, and they ruined that for her too."
The exact number of the misdirected participants is not known, but volunteers at the finish line the day of the marathon told Betances-Foster that she was among several groups of people who were upset because they had been sent the wrong way.
"I was really upset and unsure of what to do when they told me I couldn't get back on the course. I've heard stories of marathoners getting off course before and know that they have almost always been allowed to get back on course and finish. After that I starting thinking less about the race and more about my family and my two younger children [age 12 and 16] who stayed up the night before making custom signs and were waiting with my husband and Camile [Betances] to see me and cheer me on. They drove an hour to get there and I just kept thinking that I needed to get back to them to comfort them. I tried to find someone who was in charge to speak to, but no one seemed to have any knowledge of who to contact. I even asked for Frankie Ruiz and Dave Scott since I dealt with them last year, but no one even knew who they were," Betances-Foster said.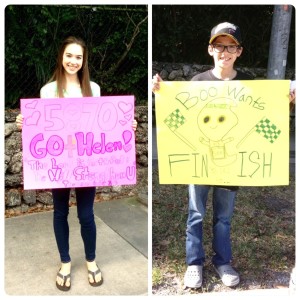 The ING Miami Marathon website states, "We require that participants be properly prepared and trained to complete the full marathon (26.2 miles) within 6 hours (~14 min/mile pace). However, the full marathon finish line will remain open for 7 hours (~16 min/mile pace)."
If the volunteers and officials who refused to let participants like Betances-Foster back onto the course claimed it was due to timing, they were not following the policy that is stated on the website. At the time of misdirection, Betances-Foster, a speed walker due to multiple knee surgeries, was at a 14:69 pace and was slated to finish in 6:24:05, well within the constraints specified by the Miami Marathon officials.
"I know that thousands of runners complete the Miami Marathon each year and rave about how wonderful it is, but I feel that my mother's story is the story of many and cannot continued to be ignored again. Race officials need to be accountable and meet the expectations that they say they will for their race. This means accommodating runners AND walkers, as long as they are within the time limit stated. Everyone deserves the chance to run the race they trained for," Betances concluded.