Jose Chang Lays Down the Law
Hang on for a minute...we're trying to find some more stories you might like.
Although he is known by many as the president of Gables' TV Production, outside of school, Jose Chang is recognized by his commitment with the Police Explorers. Chang is currently a senior in the Communication Arts, Film and Digital Media (CAF&DM) academy at Gables. He is proud to say that he has been a part of the Police Explorers since his freshman year at Gables. The Police Explorers is a program that high school students can join in order to learn about law enforcement. However, he is required to maintain a grade point average (GPA) of 2.0 or higher and attend school on a regular basis to become part of the program.
Chang, who is passionate about law enforcement, decided to join the program knowing that it will be beneficial for him to explore his future career early on. His plan after high school is to become a police officer. With the program, he is able to gain insight into the complex world of law enforcement. By far, Chang's favorite part of being a Police Explorer is the scenario aspect because it trains him to become a police officer. A couple of scenarios that he enjoys dealing with are bomb threats, attempted suicides and traffic stops. Although volunteers of the program do not have arrest or enforcement powers, the scenarios give them the power to feel like real cops.
"Being a part of the Police Explorers program means that I must follow the standard orders of operations of the police department and I need to represent the department with the best attitude," senior Jose Chang said.
One of the biggest milestones that Chang has accomplished throughout his experience with the program is becoming Captain, and a promotion to Major is waiting not too far in the future.  He currently has the highest rank in the City of Miami program, meaning he is the leader of a group of 100 other Police Explorers. In addition, he has gone to competitions with the #1 post here in South Florida and has won multiple medals. To Chang, the three values that the program teaches the volunteers are influential to him: integrity, honor and respect. He strongly believes that these three values are what allows a human to be ethical, and in the line of enforcing the law being ethical and fair is the only way to go. Since fifth grade, Chang knew that he wanted to become a police officer. The reasoning behind his decision is that he loves helping others and being a police officer allows him to do just that.
"The loathe towards drug abuse and domestic violence offenders also inspired me to become a cop," senior Jose Chang said.
Although Chang struggles sometimes to balance TV Production, Police Explorers, work and school, he has a loving family and friends who support him in everything. Their unconditional love and support eases the struggle of him having to deal with everything by himself. This year will be Chang's second year as the president of TV Production, which to him is like a second family. It's been an extraordinary experience for him to work closely with amazing students and our wonderful faculty here at Gables. "It has been a pleasure to be the president, and I can't thank Ms. Camacho enough for giving me this amazing opportunity," Chang said. He's excited to see what this year has in store for him and to grow as a person and Police Explorer.

About the Videographer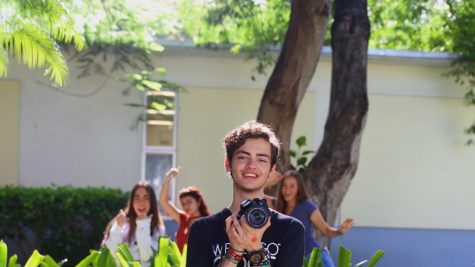 Andres Velasco, Multi-Media Editor
Andres Velasco is a senior in the International Baccalaureate (IB) program at Gables. During his final year in CavsConnect,  he hopes to not only improve...