Young Entrepreneurs Compete Through NFTE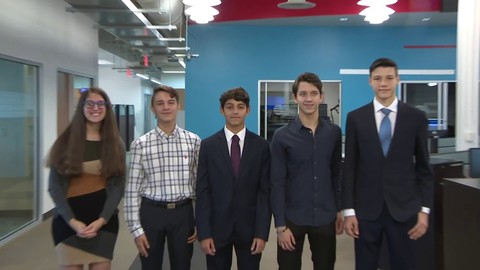 ---
The Academy of Finance (AOF) works alongside the Network for Teaching Entrepreneurship (NFTE), in which students are taught the principles of entrepreneurship. Every year, NFTE holds a national competition where students are asked to create a business plan. The $15,000 prize for the first place winner to find the launching of a business. At the school, all students in a class where NFTE's curriculum is implemented are encouraged to participate.
The first level of competition is within the classrooms, followed by county, then regionals and nationals. This year, 46 students all over the nation qualified to compete at nationals on Oct. 11. Richard Smithies, Christian Garcia and Vyacheslav Lazurenko were the three Cavaliers who attended nationals in New York City.
Throughout his journey competing, Richard Smithies had to change his business idea because others believed it was too much of a risk. Overcoming that challenge, he created a business he is truly passionate about called Helios Mining in which he 'mines' cryptocurrencies, like Bitcoin, with the use of solar energy.
"Bitcoin is an online currency, which means that there is monetary value even though it is online. For it to work, high power computers validate transactions by solving algorithms," junior Richard Smithies said.
Smithies founded his idea upon learning about the alarming amount of electricity Helios Mining utilizes, but he believes solar energy will minimize this issue by increasing profit margin as well as benefit the environment. His initial reason to participate in the competitions was to win the $100 NFTE rewarded. After winning at the classroom level, he was able to see his potential and where his idea could take him. After making it to the regional level, he presented his business plan to 150 people and won first place in NFTE South Florida Regional Entrepreneur.
"
After the first 20 seconds of presenting, the nervousness goes away and confidence increases."
— junior Richard Smithies
The part of competing that he has enjoyed the most has been the risks and connections he has been able to make through NFTE. Smithies has been able to improve his entrepreneurial mindset and recommends students take the class.
Christian Garcia and Vyacheslav Lazurenko created their business plan together for NFTE. The idea for their plan arose when Garcia was playing a video game. "Our product is named Shield and it essentially repurposes the technology in our laser tag today to prevent friendly fire incidents in the military," junior Christian Garcia said. For their presentations and PowerPoint, Lazurenko applied his skills in graphic design. In their class, they competed against three students and won first place.
After earning second place at the regional level but not advancing to states, they both decided to present their project over the summer through a program recommended by their mentor. They went through the entire competing process once more. Garcia and Lazurenko were able to win all levels through states, where their trip to nationals was entirely paid for. Through this experience, Lazurenko developed his presenting and speaking skills as English is not his first language.
"I enjoyed communicating with other young entrepreneurs and experienced adults that were attending NFTE competitions. I like how it helps develop an entrepreneurial mindset and makes it possible for students to participate in competitions without any entry barriers," junior Vyacheslav Lazurenko said.
This is an experience they will always remember. Participating in the NFTE competitions enabled them to create businesses with complete creative freedom as well as meet other young entrepreneurs and adults in the field.
WPLG Local 10