COVID-Safe Activities for our Unusual Holiday Season
It's the Holidays: a time to celebrate, practice the spirit of giving and do fun activities. However, this year is unique in terms of making sure everyone is safe, which means that some activities that we would regularly do might have to be adapted to our situation. So, we will simply make the most out of it. Here are some fun COVID-friendly holiday activities to make your holiday season merry and joyful.
Holiday Cookies
One of the best and most convenient ways to celebrate the holidays is to make cookies. There is a variation of different types of cookies to make, from sugar cookies to gingerbread men. Here are a few delicious recipes to fill your taste buds with holiday spirit.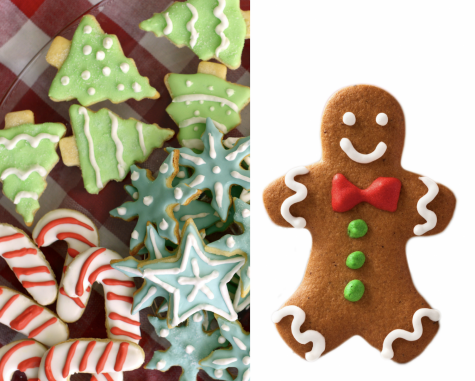 Sugar Cookies
If you want a simple but yummy treat these look no more. Not only are these sugar cookies delicious, but they also are easy to transform into holiday cookies using cookie cutters and icing to decorate and add a holiday touch to it.
Gingerbread man cookies
These cookies are a holiday classic due to their flavorful taste and holiday spices such as ginger and molasses. These are also traditionally made into cute gingerbread men and are quite fun to decorate.
"I think the holiday spirit is so important because this year has been especially hectic and the holidays help bring back a sense of normalcy into our lives and it really makes me appreciate everything I have," sophomore Cheryl Fiffe said.
Holiday Movies
As most of our holiday season will be spent at home a cozy way to celebrate is to watch some fun holiday movies with some warm cookies and milk and you can even bring your family along!
On Freeform(Tv channel) there are 25 days of Christmas movies !
Jingle Jangle- Netflix
How the Grinch stole Christmas- Netflix, YouTube, Vudu and Amazon Prime
Home Alone- Amazon Prime, Vudu and YouTube and google play
The Polar Express- Amazon Prime(purchase), Vudu, google play, iTunes
Other than these there are many other holiday movies on Netflix.
Holiday Lights Display
If you want to get outside, going to see Holiday lights displays is a fun way to make a merry and joyful memory but also stay safe.
Pinecrest Gardens- Pinecrest gardens have the most beautiful lights that make you feel like you are in a winter wonderland.
Merrick park- Merrick park has a big beautiful Christmas tree outdoors as well as lights and decorations all through the shopping mall.
Santa's Spectacular- A Drive-Thru Musical Extravaganza- This is Miami's first-ever Christmas drive-through with light shows and holiday vignettes. It is a creative and entertaining activity that is COVID-19 friendly.
"Holiday spirit is feeling good about the holidays. No stress, no homework, just happiness and spending time with family and friends", Freshman Olivia Kauffman said.
Be Extra with your decorations this year
Since many of us are now spending more time at home decorating can be an exciting and merrymaking activity to do. Since going to public events is not exactly popular right now decorating your house or apartment is a way to contribute to the holiday spirit.
DIY Pine scented soy candles– These homemade candles are adorable and fill any room with a holiday scent. They can also make a great gift. If you do not have the ingredients they are accessible on sites such as Amazon.
3D Paper Snowflakes- This DIY holiday craft only requires scissors and a piece of paper. 3D Paper snowflakes are easy and accessible to decorate.