Striking for Success!
Originally, junior Kevin Monjarrez had wanted to be a karate master. After he'd gone to a couple of classes, he figured that throwing a bowling ball would make self-defense easier, and he has had a love for bowling ever since. He's been playing ever since the fifth grade and has been on the bowling team for Gables since his freshman year. Last year, he was awarded Athlete of the Week and was dreaming of averaging a 200. As of now, 600 has become his minimum and he has occasionally performed with scores of 650 and over.
Although he takes bowling very seriously, Monjarrez makes it clear that having fun is the most important part of his game. One of his favorite things about being on the team is watching new members hilariously struggle to learn the basics that he has mastered, as it is reminiscent of his fifth-grade self. After high school, Monjarrez is planning to possibly continue his bowling career, whether it is on his own time or with a team since not many colleges offer it.
---
Do you play any other sports?
Well, I tried the whole martial arts thing, but sometimes I go to badminton meets if they let me wear pants to practice.
What do you do at practices?
At practices, we work on our form and practice to make sure we bowl the strike extra well.
Are you in any other extracurricular activities?
I volunteer at several bowling related charities to make sure no child goes home without a bowling ball.
"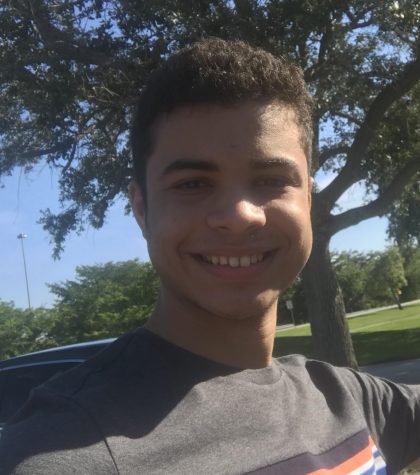 My main hobby is bowling as boring as an answer that is. I also enjoy playing competitive FarmVille and Clash Royale on the side.
— Junior Kevin Monjarrez
How do you balance bowling with academics?
To be honest, it's pretty hard. Coming home late doesn't give us a lot of time to work, but I remain dedicated to my craft. 
What has been one of your favorite memories with your team members?
My favorite memory with the team is probably teaching my boyfriend Alejandro Mejias to bowl. Having him there has been a great experience. I know I wouldn't be able to do what I do without his support.
Do you have a goal for this season?
My goal for this season was to be featured on CavsConnect and you all have made my dream come true. I also hope to make it to states this year with fellow bowling man, Arturo Diaz-Dube.
What have you learned from being on the team?
After three years on the team, my main takeaway is probably that I should have stuck with karate.
Any advice for anyone who is interested in joining?
As for advice on anyone who is interested in joining, I ask, "You actually want to join bowling? Out of all the fall sports? Was swimming not available?" But seriously, if you have an interest just please talk to me or Coach Campagna and we'd be happy to teach you if you feel you have a future in bowling.
What colleges are you looking at?
I plan on going to Miami-Dade College (MDC) and Harvard as a backup.