Athlete Spotlights: Sofia Alfonso and Kevin Monjarrez
Oct 12, 2018
Every two weeks, CavsConnect will be selecting two exemplary athletes and recognize them for their athletic prowess and ability in their sport. Below are the athletes spotlighted for their performances between Oct.1 and Oct. 12.
Striking for Success!
Originally, junior Kevin Monjarrez had wanted to be a karate master. After he'd gone to a couple of classes, he figured that throwing a bowling ball would make self-defense easier, and he has had a love for bowling ever since. He's been playing ever since the fifth grade and has been on the bowling team for Gables since his freshman year. Last year, he was awarded Athlete of the Week and was dreaming of averaging a 200. As of now, 600 has become his minimum and he has occasionally performed with scores of 650 and over.
Although he takes bowling very seriously, Monjarrez makes it clear that having fun is the most important part of his game. One of his favorite things about being on the team is watching new members hilariously struggle to learn the basics that he has mastered, as it is reminiscent of his fifth-grade self. After high school, Monjarrez is planning to possibly continue his bowling career, whether it is on his own time or with a team since not many colleges offer it.
---
Do you play any other sports?
Well, I tried the whole martial arts thing, but sometimes I go to badminton meets if they let me wear pants to practice.
What do you do at practices?
At practices, we work on our form and practice to make sure we bowl the strike extra well.
Are you in any other extracurricular activities?
I volunteer at several bowling related charities to make sure no child goes home without a bowling ball.
"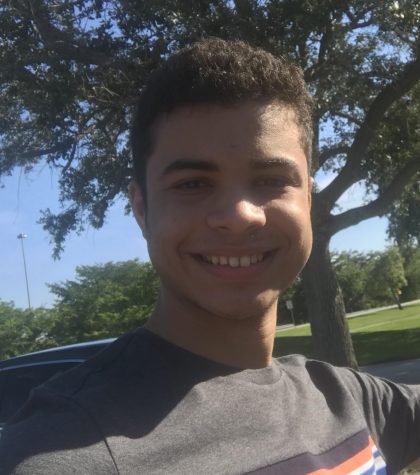 My main hobby is bowling as boring as an answer that is. I also enjoy playing competitive FarmVille and Clash Royale on the side.
— Junior Kevin Monjarrez
How do you balance bowling with academics?
To be honest, it's pretty hard. Coming home late doesn't give us a lot of time to work, but I remain dedicated to my craft. 
What has been one of your favorite memories with your team members?
My favorite memory with the team is probably teaching my boyfriend Alejandro Mejias to bowl. Having him there has been a great experience. I know I wouldn't be able to do what I do without his support.
Do you have a goal for this season?
My goal for this season was to be featured on CavsConnect and you all have made my dream come true. I also hope to make it to states this year with fellow bowling man, Arturo Diaz-Dube.
What have you learned from being on the team?
After three years on the team, my main takeaway is probably that I should have stuck with karate.
Any advice for anyone who is interested in joining?
As for advice on anyone who is interested in joining, I ask, "You actually want to join bowling? Out of all the fall sports? Was swimming not available?" But seriously, if you have an interest just please talk to me or Coach Campagna and we'd be happy to teach you if you feel you have a future in bowling.
What colleges are you looking at?
I plan on going to Miami-Dade College (MDC) and Harvard as a backup.
Leave a Comment
It's a Hole in One!
Joining the golf team at Coral Gables Senior High, in a way, had been destiny for junior Sofia Alfonso. She has been either in or around golf almost her whole life. Her dad, a coach, teaches classes on the weekends and she would go with him when she was younger. Always being around the sport, she decided to join it five years ago.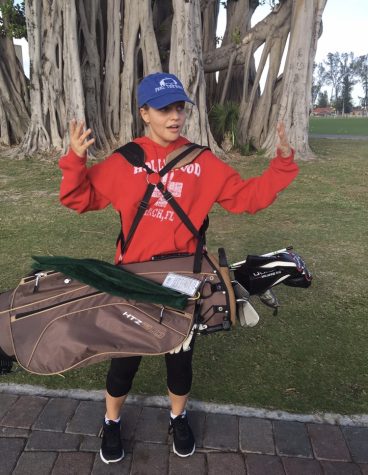 "My favorite memories are probably when I get to play with Zoila, my teammate," junior Sofia Alfonso said.
During matches, they crack jokes and laugh, making the whole experience even better. They always find each other bonding over the struggles they share on different golf courses. Apart from her sport, Sofia is interested in pursuing a career in STEM and engineering. Since her family lives in California, she's looking forward to applying to the University of Southern California so that she can specialize in her major. She will always love golf, but after high school, she wants to focus on her academics and try to incorporate it as a hobby rather than an actively engaged sport.
---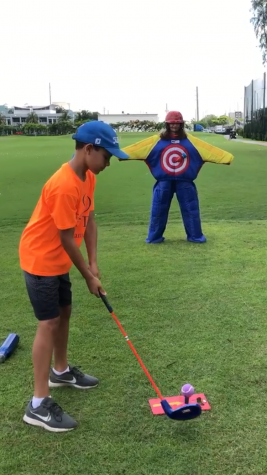 Apart from golf, do you play any other sports?
Obviously, I am not a very "sporty" person. As golf is more of a mental game, it's the only sport I really play.
What do you do at practices?
At practice, we usually stretch, hit golf balls, get feedback, putting together and sometimes we play a few golf holes. Mostly, we hit balls repeatedly.
What have you learned from being on the team?
The team has taught me a lot about sportsmanship and no matter how mentally straining a sport can be, you'll have your team to get you through it.
Do you have a goal for this season?
My goal would have to be going to regionals, as I missed the cut last year by one stroke.
Any advice for anyone who is interested in joining?
If you are interested in joining, just contact me or one of the coaches. The team is super open and you don't have to be good. Just have perseverance and respect for the golf course.
How do you balance golfing with academics?
Trying to balance golf is hard. It is a very, very long game, but with support from my parents taking me to the library and me not having a social life, I'm able to balance my classes with it.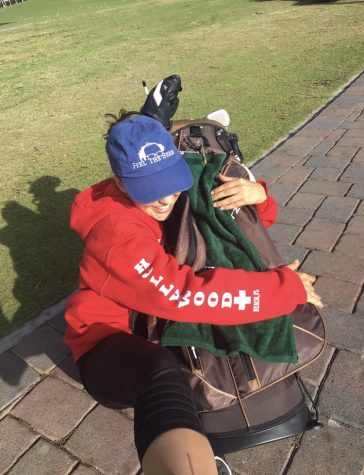 Are you in any other extracurricular activities?
I do a lot of extracurricular activities for science, like SECME (Science, Engineering, Communication, Mathematics, and Enrichment) or SNHS (Science National Honor Society), which I do when I'm not golfing.
What is your board position in SECME?
For SECME, I'm the VP of Competitions meaning I make sure everybody is on track with their due dates for the SECME expo in 2019. I also make sure we're turning in winning competition items. Join SECME!
What are some of your other hobbies?
Well, I pretty much just golf, look at memes, do homework, and eat ice cream. I also love going to movies and concerts as well.
Leave a Comment