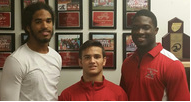 Hannah Cordes, Staff Writer

February 16, 2016
Congratulations to seniors Shakur Cooper and Gee Stanley. Both received first team All-Dade honors by the Miami Herald for football. To read up more on Cooper and Stanley, click here. Our other athlete of the week is senior wrestler Anthony Vizcaino. Vizcaino has pinned 17 consecutive opponents over ...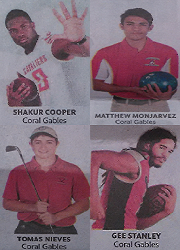 Cavan Wilson, Sports Editor

February 1, 2016
Congratulations to all of our Cavaliers who got First Team All-Dade. This year, we have four representatives from Gables who were selected for their hard work and dedication to their sports. Seniors Gee Stanley and Shakur Cooper received First Team All-Dade for football, senior Matthew Monjarrez received...