Lady Cavaliers Ready to Hit the Court in 2022
Setting their sights on the upcoming fall months, Lady Cavaliers' volleyball is ready to extend their winning streak into the 2022 season. After the ups and downs of the 2021 season, the girls are looking to solidify themselves as a threat to other competitive teams in their district.
Re-adjusting their footing, the girls volleyball team is looking to avenge their loss to the Doral Academy Firebirds in last year's district semifinals. Losing a majority of senior players, the athletes are trusting in their veteran players to deliver when it matters most. Despite lacking some experience, the team is focused on sharpening their abilities under head coach Monica de la Vega.
"I had five or six graduating seniors, so they were a core group. That right there is going to hurt [us] for this year, but I have a really strong group of freshmen that are going to fill the spots pretty good," coach De La Vega said.
"
The team has been taking it very well, conditioning can be rough but in the end it's the best for us so we can be successful on the court and push through the game,"
— sophomore Hannah Berumen
Beginning on June 21, girls volleyball "hit" the Coral Gables Senior High gymnasium for basic training, which was hosted by Phoenix Volleyball. The training helped the girls stay well-versed for the coming season by reinforcing skills such as blocking, setting, bumping and serving.
Generally, the volleyball team can be found practicing five days a week from 2:30 p.m. to 5  p.m. To begin warm-ups, players run laps around the gymnasium and follow up with dynamic stretching. Although training varies, the girls focus on different aspects of their play, such as agility and coordination, through basic volleyball drills.
From "queen of the court" to serving and receiving exercises, the girls aim to stay prepared for any situation that may present itself during a game.
"Whenever it's point that we constantly lose, it tends to bring us down and that's something that we have to work on. Just focusing on the positive and letting go of whatever happened…Once we come together, we are a really strong team, so I think we just have to work on the attitude more," sophomore Sofia Gomez said.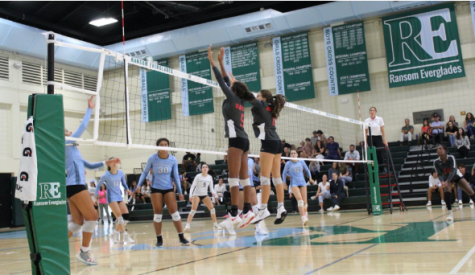 Facing off against Ransom Everglades, the Lady Cavaliers tightened their sneakers for the season opener on Aug. 24. Despite first-game stutters, girls volleyball overcame the lack of chemistry with outstanding plays from captain Avery Felix and outside hitters Celina Richardson and Andrea Winkeljohn.
The Cavaliers fell short in the first set with a score of 8 to 25. Nevertheless, the tides shifted in the second set after a missed serve from Ransom. The team rallied for ten straight points and won with a score of 26 to 24. Embracing the competition, the Lady Cavaliers, unfortunately, accepted defeat by a tally of 3-1. 
"I feel like we're more focused towards the last couple of sets with varsity. And that's when we really started to show out, but at the beginning, we were nervous and weren't focused and that's what caused us to lose points," freshman Bianca Benson said.
Keeping their spirits high, the Lady Cavaliers remained confident heading into the gym against the Miami Sunset Knights. Adjusting to new rotations and thinking on their feet helped the Cavaliers achieve their first victory of the season with a final score of 3 to 1.
Leave a Comment
Your donation will support the student journalists of Coral Gables Senior High School. Your contribution will help us cover our annual website hosting costs.