Gables Cheer: Growing Year by Year
For the past few years, Gables Cheer has encountered many new and frightful experiences on the road to growth. Last year, during July, it was the Coral Gables Cheerleading team's first time back at Universal Cheerleading Association (UCA) camp in ten years. This was a big step-up for the team as they look to regain the dominance they once displayed.
Throughout the 2019-2020 school year, the Cavalier Cheer team has implemented all of their new skills into pep rallies, sporting events, showcases and community events.
The Cavalier cheerleaders have begun their season after a month of off-time. This year, they are planning on changing the way they teach the new cheer candidates from the very start.
The cheer team hosted their first two clinics on Tuesday, Feb. 25, and Thursday, Feb.26. The following week, they hosted two more on Monday, Mar.2 and Wednesday, Mar.4. The purpose of these clinics was to give those who were interested in being part of the cheer team the opportunity to see what it is like to be a cheerleader before the actual tryouts.
Participants had to pay just five dollars to attend the clinics. This way, the cheer team was able to fundraise money to increase the quality of the team and their equipment.
Veteran cheerleaders were in charge of reviewing jumps and stunts for the first time, while candidates were able to experience what a full practice like a Gables cheerleader is actually like. This was an effective way for Coach Aridas to take note of the old cheerleaders' leadership and team work skills, especially the ones that are applying for a leadership or captain position.
"I think the clinics really help the new candidates because it teaches them the techniques that we use. Most of the new people have not cheered before, so the clinics gives them an idea as to what being on the team is like and it prepares them better for tryouts. This also gives officers a chance to act on their leadership styles and also allows them to see what it is like to lead a group of cheerleaders," junior Jada Garcia said.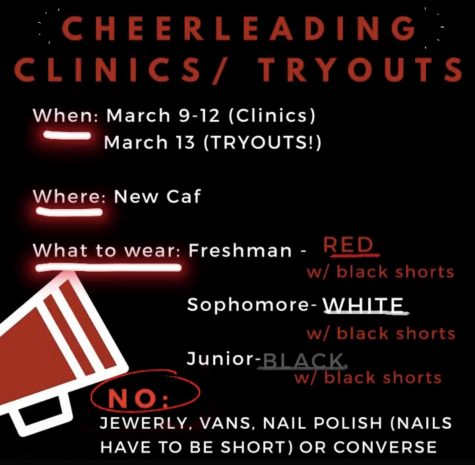 The 2019-2020 team is excited for the new season because they are more suited to help the new cheerleaders once the season starts. Attending showcases and UCA camp has helped the team grow in the way that they bond with each other.
All of the new implementations and renovations that are happening within the cheer team will make the process of starting a new season with new cheerleaders easier than it had ever been before. The team has expressed that they feel a deeper connection to the sport of cheer and are more comfortable with their roles as Cavalier cheerleaders.
"We have experienced safer ways to stunt and new skills that have helped us throughout this past season, and most of it has been from UCA. I think that everything we have learned will help us teach the new candidates better because we are more experienced than we were before. If I were captain, I would include more strength training because I have seen that if our team gets stronger, stunts become easier to carry, increasing the experience of the team," junior Yasmin Hernandez said.
In hopes of competing with other cheer teams in Florida this year, the Cavalier Cheer team has been working on their strategies for preparation day-by-day. They will not stop working until they reach their goal and eventually live up to what their expectations are. All the new cheer applicants have been showing great motivation and good attitude and everyone is working hard to make this season count.