Cavalier XC Sprints to the Finish
A long and grueling season is finally reaching its conclusion for the Coral Gables Cross Country team, and they have no intention of slowing down for their final meet. After performing remarkably well at Regionals, where the Boys Cross Country team placed in the top six teams and qualified for States, the team now has its sights set on a state title. The higher level of competition does not intimidate Coach Scott Nelson's team; it only motivates them to train harder and prove that they should be considered among the best runners in Florida. Having five to six practices a week helps to maintain the roster's fitness levels at a peak, which will be needed to compete at States. Expectations are in no way tempered due to
the opposition, and the runners fully expect to put their best foot forward in their upcoming competition.
"Running wise the preparation is similar. The real challenge is eating and sleeping well while traveling," coach Nelson said.
A devastating seventh place finish for the Girls Cross Country team left them only one spot away from qualification for States, but it has not stopped them from viewing their season as a success.
"We ran really well the whole season, and to only miss out by 1o points was disappointing, but it shows how we improved as the season went on," junior Violeta Alonso said.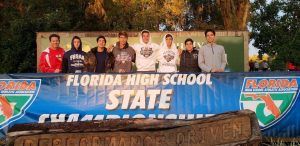 Alonso was among the female runners that finished just barely outside of the top six, posting the best time out of the Gables runners, followed by sophomore Karina Leon. The team's dominant performance at Districts had led many to believe that the team would place at Regionals, but the results were nevertheless promising for next season.
The Boys Cross Country team had better luck at Regionals, and placed fifth overall. The result qualified them to compete at States, and this outcome was not expected at the beginning of the season. Competing in a well-performing district, the team knew they were capable of running well, but also realized that their road to States was made significantly harder by their tough district and region.
"We did better than expected throughout the season, especially because of our tough district," junior William Fay said.
Despite having the cards stacked against them, the runners persevered and made it to States as a team, as well as having a runner finish in the top 15. Colin Wilson qualified for the state competition as an individual after his impressive top 15 finish at Regionals, as well as reaching States as an integral part of the boys team.
State championships are quickly approaching, and the entire team is locked on to the idea that they can exceed all expectations and place at the competition. An already wildly successful season for the Cross Country team could become even more impressive, as they take on the best competition in the state of Florida on Saturday, Nov 10. Be sure to wish them luck as they aim to make their final runs of the season their most memorable ones!